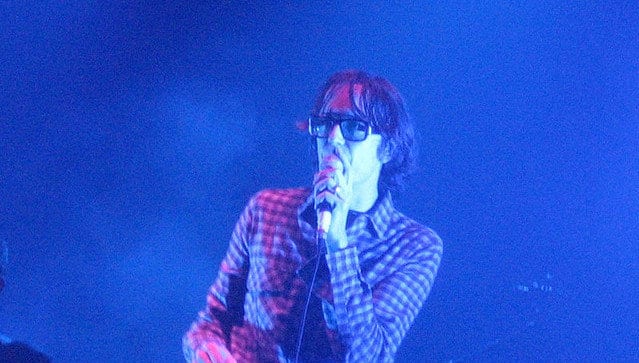 Pulp's frontman Jarvis Cocker is to judge a karaoke contest in New York next week.
The karaoke event coincides with the release of the new Pulp documentary 'Pulp: A Film About Life, Death and Supermarkets'. The movie was directed by Florian Habicht and is based on the band's final homecoming show in Sheffield. Read more about the Pulp movie on Nova's website here.
The contest will take place at the Industry City venue in Brooklyn, after a screening of the film. Contestants will sing Pulp songs, the list of tracks you can sing is limited but all the classics are included, 'Common People,' Disco 2000,' and 'Sorted For E's & Wizz.'
Although entrants have been told they stand a much better chance of entering the competition if they do not sing 'Common People'.
To enter the contest you need to tweet @RooftopFilms, stating which Pulp song you'd like to sing for the brit-pop musician and why. You need to add the hashtag #singforjarvis at the end of your tweet.
Hold on though, there are some rules, this isn't the Brit Awards, you can't just run on stage like some madmen and disrupt someone else singing.
(1) You must plan to attend the screening of the film on August 7th! If you can't be there, don't enter the contest! Jarvis will be very upset, he's a sensitive soul.
(2) Creativity is encouraged/mandatory. Tweet something that will make us notice you and think you're a special and unique snowflake. A funny drawing? A relevant YouTube video? Something weird and wild we've never seen or heard before? Impress us.
(3) No nudity please.
(4) If we get a million tweets about 'Common People', we will be far less likely to pick them. Don't be so obvious. See above note about creativity
(5) If you receive that coveted tweet that says you've won, don't have a heart attack. You need to confirm your win within 24 hours of notification.
The karaoke competition mirrors the Pulp video for the track 'Bad Cover Version,' where lookalikes like Liam Gallagher, David Bowie and Bono appear. Even Cocker himself shows up in the video dressed as Brian May playing the guitar.
Here's the video for 'Bad Cover Version'.
The full list of karaoke songs you can perform for Mr. Cocker are:
All Time High
Babies
Common People
Disco 2000
Do You Remember the First Time
Help the Aged
Mile End
Monday Morning
Sorted For E's & Wizz
This Is Hardcore