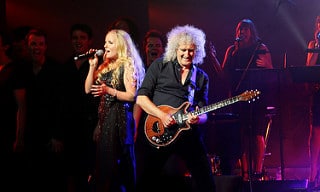 Queen guitarist Brian May has again teamed up with West End singer Kerry Ellis who he previously referred to as having "Britain's most beautiful voice". Ellis has appeared on London's West End in such shows as My Fair Lady, Les Miserables, Wicked and the Queen musical We Will Rock You.The pair have now revealed the details and release date for their new album.
Set to drop next month, on April 7, the new album is entitled Golden Days.
May and Ellis have known each other for over thirteen years and have previously joined forces with 2010's Anthems and a number of joint live dates.
The artists first met when Brian attended a performance of Lady and urged Ellis to audition for the Queen musical. At first, May mainly promoted her and produced a number of recordings but, in 2010, they combined their musical talents for the album Anthems.
Six years on, the new Golden Days is a compilation of original and re-arranged tracks, including a tribute to a cause close to their hearts.
The album features five original songs – two of which were written by Brian and three which were a collaborative effort between Brian and Kerry – as well as new arrangements of classic tunes like 'Amazing Grace', 'The Wailin' Jennys' 'Once Voice' and a new arrangement of the Academy Award winning 'Born Free' from the film of the same name as an ode to their Wildlife Conservation work.
"This album is a true collaboration between Kerry and myself," said May in the press release announcing Golden Days. "Five years ago, Anthems was the result of me producing an exciting new artist — Kerry Ellis. This new record has both our names on it, and breaks new ground. We produced ourselves together as a team. I feel confident it's the best thing we've ever done and a worthy testament to 13 years of belief. It also happens to feature Britain's most beautiful voice!"
"This new album has been a real journey of discovery and I feel so proud of how Brian and I have developed over the years; we have learnt how to work together and inspire each other to create special performances and music," added Ellis. "The album is really a mixture of our experiences and has a story behind each song. Brian and I have had such fun developing it and can't wait for people to hear it."
Brian May and Kerry Ellis, 'Golden Days' Track Listing
"Love in a Rainbow"
"Roll With You"
"Golden Days"
"It's Gonna Be All Right (The Panic Attack Song)"
"Amazing Grace"
"One Voice"
"If I Loved You"
"Born Free"
"Parisienne Walkways"
"I Who Have Nothing"
"The Kissing Me Song"
"Story of a Heart"
"Can't Help Falling In Love"
Picture Credit: Mark Kent