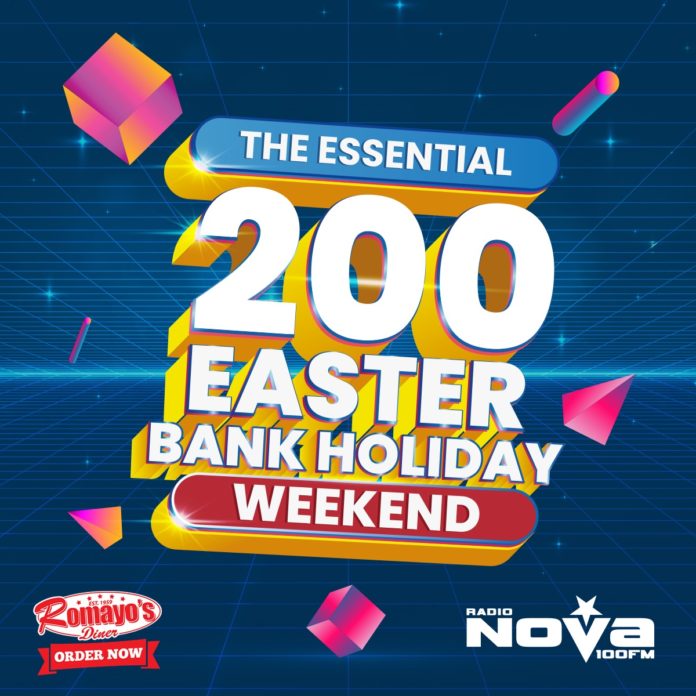 This Easter Bank Holiday weekend on NOVA we are counting down 'The Essential 200' songs as voted by you!
Some songs are memorable because they changed the way music is played, some because they changed the way we think about things or even changed our lives – and come just because we love them!
Check out the countdown list so far & tune in all weekend from 11am as we count down to number 1 just before 6pm on Monday evening!
SATURDAY'S COUNTDOWN 200-133
| | | |
| --- | --- | --- |
| 200 | Aslan | This is |
| 199 | ELO | Telephone Line |
| 198 | Kodaline | High Hopes |
| 197 | Counting Crows | Mr Jones |
| 196 | Kaiser Chiefs | I predict a riot |
| 195 | OCS | The Riverboat Song |
| 194 | Joan Jett | I love rock and roll |
| 193 | Rolling Stones | Honky Tonk woman |
| 192 | Oasis | Roll with It |
| 191 | Alice Cooper | Schools Out |
| 190 | Red Hot Chilli Peppers | Universally speaking |
| 189 | Bob Dylan | knocking On Heaven's door |
| 188 | New Order | True faith |
| 187 | The Jam | That's Entertainment |
| 186 | Rainbow | Since You've Been Gone |
| 185 | David Bowie | Life on Mars |
| 184 | Sinead O'Connor | Nothing compares to you |
| 183 | James | Sit Down |
| 182 | Steelers Wheel | Stuck in the middle with you |
| 181 | The Who | My Generation |
| 180 | Queen | Another One bites the dust |
| 179 | Wings | Band on the run |
| 178 | Kiss | Crazy Crazy Nights |
| 177 | The Verve | Sonnet |
| 176 | Foreigner | Cold as Ice |
| 175 | David Bowie | Young Americans |
| 174 | Snow Patrol | Run |
| 173 | Yes | Owner of a lonely heart |
| 172 | Foo Fighters | My Hero |
| 171 | Aerosmith | I don't wanna miss a thing |
| 170 | Sterophonics | Dakota |
| 169 | Neil Young | Heart of Gold |
| 168 | Cream | Sunshine of your Love |
| 167 | Status Quo | Rockin All Over The World |
| 166 | REM | Losing My Religion |
| 165 | Bruce Springsteen | Im on fire |
| 164 | Oasis | Morning Glory |
| 163 | Def Lep | Animal |
| 162 | U2 | Still have't Found.. |
| 161 | CCR | Have you ever seen the rain |
| 160 | Waterboys | Whole of the moon |
| 159 | ZZ Top | Gimme All Your Loving |
| 158 | Red Hot Chilli Peppers | Zephyr Song |
| 157 | The Band | The weight |
| 156 | Toto | Rosanna |
| 155 | Bob Dylan | The Times They Are a Changin |
| 154 | Hozier | Take me to Church |
| 153 | Police | Every little thing |
| 152 | Eagles | Life in the fast Lane |
| 151 | Kings of Leon | Use Somebody |
| 150 | Radiohead | High & dry |
| 149 | Them | Gloria |
| 148 | T Rex | Get it on |
| 147 | Pink Floyd | Wish you were Here |
| 146 | AC/DC | Back In Black |
| 145 | Pearl Jam | Alive |
| 144 | Gary Moore | Parisienne walkways |
| 143 | Green Day | Boulevard of Brokeb Dreams |
| 142 | The Smiths | Panic |
| 141 | Guns N Roses | Patience |
| 140 | Jimmy Hendrix | Purple Haze |
| 139 | Queen | Radio Ga Ga |
| 138 | Aslan | Crazy World |
| 137 | Boston | More than a feeling |
| 136 | Metallica | Enter Sandman |
| 135 | Neil Young | Rockin in The Free World |
| 134 | The Cure | Love Cats |
| 133 | ELO | Livin Thing |