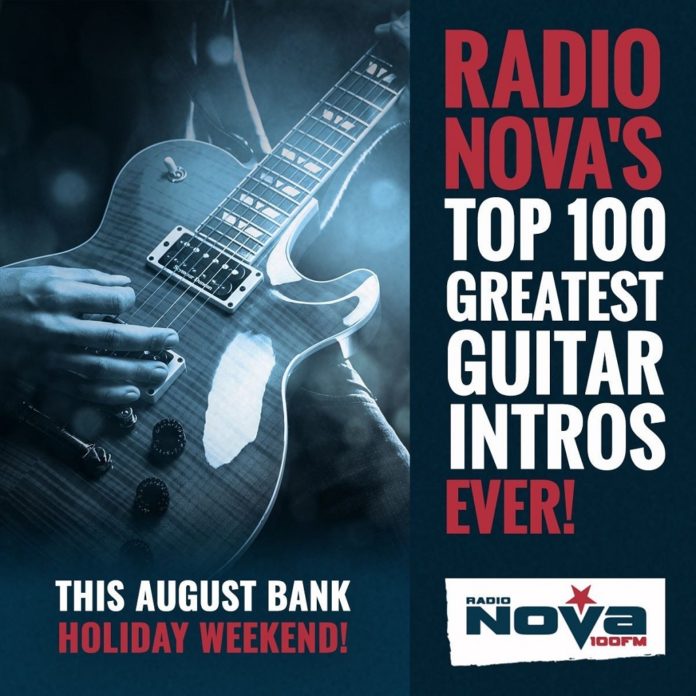 Guitar intros! They're essential, a repeated sequence of notes and chords that sound sooo simple yet they're so iconic that they instantly stand out within a fraction of a second.
They're catchy, legendary, they speak volumes, and they can truly stir the soul!
They're the focus of wannabe guitarists everywhere, plucking on their first guitar strings, and they're the songs people turn the car radio up LOUD for, the world over.
From Smells Like Teen Spirit, Rebel Rebel and I Can't Get No Satisfaction to Sweet Child o' Mine, Layla and Eye of the Tiger, YOU voted for the Top 100 Greatest Guitar Intros of All Time!
Check out the list below and tune into the new station on the Nova App for nothing but non-stop great gutar intros on a new channel.
| | | |
| --- | --- | --- |
| 100 | Survivor | Eye of the Tiger |
| 99 | Transvision Vamp | Baby I Don't care |
| 98 | U2 | Desire |
| 97 | AC\DC | Highway to Hell |
| 96 | The Cure | Just Like Heaven |
| 95 | The Who | Who Are You |
| 94 | Coldplay | Adventure of a Lifetime |
| 93 | Arctic Monkeys | Do I Wanna Know |
| 92 | Blur | Country House |
| 91 | Oasis | Wonderwall |
| 90 | Red Hot Chili Peppers | Can't Stop |
| 89 | Radiohead | Creep |
| 88 | The Black Crowes | Hard to Handle |
| 87 | Def Leppard | Animal |
| 86 | The Animals | House of the Rising Sun |
| 85 | John Mellencamp | Jack & Diane |
| 84 | The Knack | My Sharona |
| 83 | Gary Moore | Still Got the Blues |
| 82 | The Police | Message in a Bottle |
| 81 | The Cranberries | Zombie |
| 80 | The Rolling Stones | Paint It, Black |
| 79 | Yes | Owner of a Lonely Heart |
| 78 | Alice Cooper | School's Out |
| 77 | Joan Jett | I Love Rock and Roll |
| 76 | Dire Straits | Money for Nothing |
| 75 | Don Henley | Boys of Summer |
| 74 | The Rolling Stones | Brown Sugar |
| 73 | Pink Floyd | Another Brick in the Wall |
| 72 | The Smiths | How Soon is Now? |
| 71 | Golden Earring | Radar Love |
| 70 | U2 | The Unforgettable Fire |
| 69 | Lenny Kravitz | Are You Gonna Go My Way? |
| 68 | Michael Jackson | Beat It |
| 67 | The Beatles | A Hard Day's Night |
| 66 | Van Halen | Jump |
| 65 | Thin Lizzy | Jailbreak |
| 64 | Aerosmith | Walk this Way |
| 63 | Jimi Hendrix | Voodoo Chile |
| 62 | An Emotional Fish | Celebrate |
| 61 | Primal Scream | Rocks |
| 60 | The Rolling Stones | Start Me Up |
| 59 | Guns & Roses | Welcome to the Jungle |
| 58 | Nirvana | Come As You Are |
| 57 | Green Day | When I Come Around |
| 56 | Red Hot Chili Peppers | Under The Bridge |
| 55 | Oasis | Champagne Supernova |
| 54 | Blue Oyster Cult | Don't Fear The Reaper |
| 53 | Blur | Song 2 |
| 52 | The Troggs | Wild Thing |
| 51 | Tom Petty | Runnin' Down A Dream |
| 50 | David Bowie | The Jean Genie |
| 49 | Led Zeppelin | Heartbreaker |
| 48 | T. Rex | 20th Century Boy |
| 47 | ZZ Top | Sharp Dressed Man |
| 46 | U2 | Sunday Bloody Sunday |
| 45 | The Kinks | You Really Got Me |
| 44 | The Rolling Stones | Gimme Shelter |
| 43 | Foo Fighters | Wheels |
| 42 | Cream | Sunshine Of Your Love |
| 41 | Steppenwolf | Born to be Wild |
| 40 | The Beatles | Revolution |
| 39 | Eagles | Hotel California |
| 38 | The Killers | Mr. Brightside |
| 37 | Queen | Another One Bites The Dust |
| 36 | Rush | Spirit of Radio |
| 35 | Franz Ferdinand | Take Me Out |
| 34 | Pink Flyod | Money |
| 33 | Metallica | Enter Sandman |
| 32 | The White Stripes | Seven Nation Army |
| 31 | Pearl Jam | Alive |
| 30 | Ocean Colour Scene | The Riverboat Song |
| 29 | Bachman–Turner Overdrive | You Ain't Seen Nothing Yet |
| 28 | Jimi Hendrix | All Along The Watchtower |
| 27 | T. Rex | Get It On |
| 26 | The Kinks | All Day and All of the Night |
| 25 | David Bowie | Rebel Rebel |
| 24 | The Black Keys | Lonely Boy |
| 23 | Beatles | Day Tripper |
| 22 | Chuck Berry | Johnny B. Goode |
| 21 | The Clash | Should I Stay Or Should I Go? |
| 20 | Derek & The Dominos | Layla |
| 19 | The Eagles | Life in the fast lane |
| 18 | Free | All Right Now |
| 17 | The Who | Won't Get Fooled Again |
| 16 | Jimi Hendrix | Purple Haze |
| 15 | Arctic Monkeys | I Bet You Look Good… |
| 14 | Meatloaf | Bat Out Of Hell |
| 13 | The Rolling Stones | Satisfaction |
| 12 | David Bowie | Ziggy Stardust |
| 11 | Lynyrd Skynyrd | Sweet Home Alabama |
| 10 | Led Zeppelin | Stairway to Heaven |
| 9 | Thin Lizzy | The Boys are Back in Town |
| 8 | Led Zeppelin | Whole Lotta Love |
| 7 | AC/DC | You Shook Me All Night Long |
| 6 | Nirvana | Smells like Teen Spirit |
| 5 | Guns N' Roses | Sweet Child O'Mine |
| 4 | Deep Purple | Smoke on the Water |
| 3 | AC/DC | Thunderstruck |
| 2 | Ram Jam | Black Betty |
| 1 | U2 | Bad |