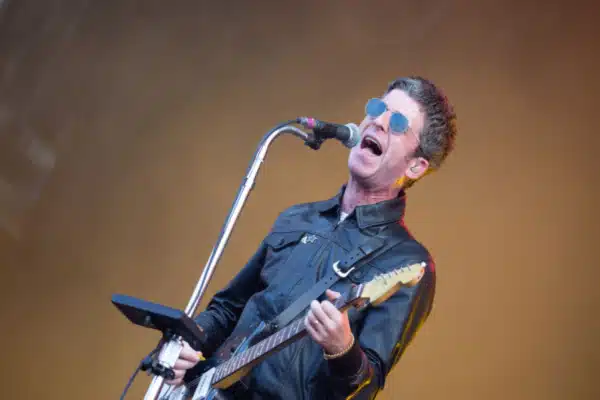 Footage showing an entire Spanish restaurant clapping and singing 'Wonderwall' to former Oasis guitarist Noel Gallagher, has been released.
Noel Gallagher was dining at the restaurant in Ibiza with his family, before a DJ dropped the famous track.
As staff and customers began singing and clapping the track to him, a visibly embarrased Gallagher eventually joined in the clapping.
You can check out this footage for yourselves below.
https://twitter.com/oasismania_uk/status/1553729883087446018?ref_src=twsrc%5Etfw%7Ctwcamp%5Etweetembed%7Ctwterm%5E1553729883087446018%7Ctwgr%5E936e57327caa56cdc67d4883d7b2edb941d11493%7Ctwcon%5Es1_&ref_url=https%3A%2F%2Fwww.nme.com%2Fnews%2Fmusic%2Fwatch-entire-restaurant-sing-and-clap-wonderwall-to-noel-gallagher-in-ibiza-3281076
Wonderwall "used to do my head in" – Liam Gallagher
Released in 1995, 'Wonderwall' featured on Oasis' album "Whats The Story (Morning Glory)?'.
The track itself reached number 2 in the UK Music Charts, and the Irish Singles Charts. It also reached number 5 in the US.
However, not everyone from the Oasis band is a keen enthusiast of the track, with former frontman Liam Gallagher and estranged brother of Noel, claiming that the track used to "do my head in". 
 "It's alright and that, but are you taking the p***?", Liam Gallagher said in a previous interview. "That used to my head in that tune! I've only started to come around to it again as I've got older".
When asked what track was his personal favourite, Liam Gallagher picked 'Live Forever', calling the track 'sentimental'.
Gallagher is also seemingly not so keen on reality tv shows.
"That's the problem with this f****** country, too many programmes on food, man. And then there's nothing on music, the only one that you've got is Jools Holland, but you've got loads of d***s backing fucking cakes and fucking bread and all that. F*** off", he said.
Speaking of Oasis, the band also released a special 25th anniversary edition of their album 'Be Here Now'. 
The album featured among others, 'Stand By Me', their most streamed tune of all time. It also included 'D'ya Know What I Mean'. A special trailer for the track was also released.
Check that out and Nova's report here.