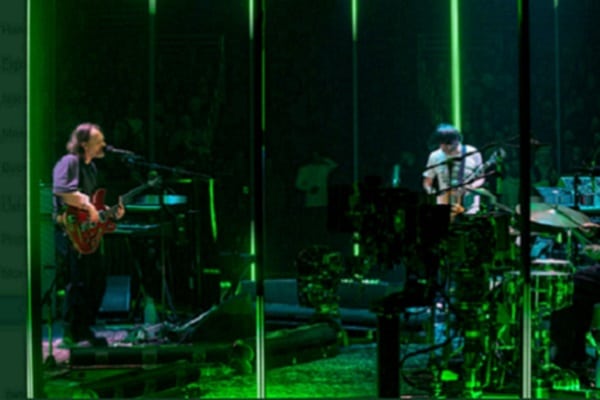 Radiohead side-project The Smile have shared this new teaser clip via social media. You can check it out below.
It remains unclear as to whether this clips means that the band are working on new music.
It shows a slab of The Smile's name pressed on a Heidelberg Platen Press. This press was first introduced during the early 1900s.
The equipment that was used in this video could also be a possible reference to Peaky Blinders, which was also set in the 1900s.
The show premiered on February 27, with Radiohead bandmembers Johnny Greenwood and Thom Yorke contributing new and original music to the show's sixth and final series.
— The Smile (@thesmiletheband) March 9, 2022
Peaky Blinders Director "Over the moon" With Radiohead Pair
Speaking to NME, director Anthony Bryne spoke about Yorke and Greenwood's contribution.
"Thom Yorke and Johnny Greenwood contributed some original stuff", he said.
"I'm over the moon about all of that. The music has always been really important historically, and I was really keen to bring a dramatic score into it. We're using that much more in this season. It's a much heavier season so the score is taking things in a very different direction". 
He also added, "It's always about Tommy [Shelby] and his headspace. That's what I keep going back to".
The Smile
The Smile had already released their debut single "You Will Never Work In Television Again". This was also a follow up to 'The Smoke'. 
The Smile will also tour Europe for a series of shows, which begin in Zagreb on May 16, before hitting Vienna, Prague, Berlin, Stockholm, Oslo and Amsterdam across the same month.
They will return for two nights at the Roundhouse in Camden, London on May 29 and 30. The Radiohead project will hit Scotland for further UK shows at Edinburgh's Usher Hall on June 1 and Manchester's Albert Hall the following day.
Speaking of Radiohead, today's Classic Album At Midnight is all about their 1985 album The Bends. The album will be played with no ad breaks, and no interruptions. More on this here.