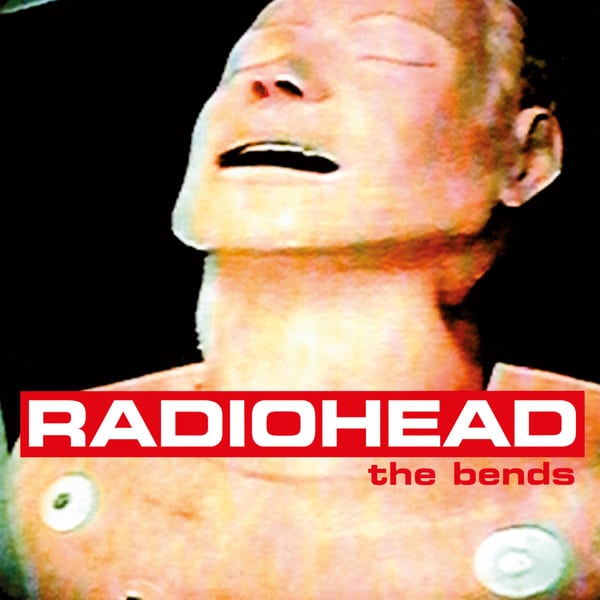 Tonight (March 10th) on the world famous Classic Album at Midnight on Radio Nova we're playing Radiohead's The Bends.
The album is presented in full with no commercials or interruptions.
Formed at Abingdon school in Oxfordshire in 1985 by singer/guitarist Thom Yorke, multi-instrumentalist Jonny Greenwood, bassist Colin Greenwood, guitarist Ed O'Brien and drummer Philip Selway, Radiohead released their debut album, Pablo Honey, in 1993 to a timid reception. That year however, the previously released single Creep began to receive heavy rotation on MTV and became a hit when it was re-released in September.
Following a gruelling tour to cash-in on the success of Creep, Radiohead entered London's RAK Studios in February 1994 to record their second album, The Bends. It would see them work for the first time with future producer Nigel Godrich, who engineered the album with John Leckie producing. One Godrich produced song, Black Star, would make it onto the album, while he also produced the singles' b-sides.
The Bends saw greater collaboration on the songwriting front than on Pablo Honey, which had been entirely penned by Yorke. The arrangements were more pared down, and the three guitarists played their own specific roles with Yorke on rhythm, Jonny Greenwood on lead and O'Brien on effects. Yorke was inspired to sing in falsetto after hearing American singer Jeff Buckley.
Radiohead were being pressured by their label EMI to record another song in the style of Creep, a song the band had disowned at that point. Instead, focus was put on the title track, Nice Dream and Just as potential singles. The result was described by Yorke as "a total fucking meltdown for two fucking months."
In May and June the band took a break from recording to tour. Their performance of My Iron Lung at a show at London's Astoria would make it onto The Bends with the audience noise removed. In July they resumed recording at Oxfordshire's Manor Studio. Recording eventually wrapped in November at London's Abbey Road Studios.
The Bends features 12 tracks: Planet Telex; The Bends; High and Dry; Fake Plastic Trees; Bones; Nice Dream; Just; My Iron Lung; Bullet Proof; I Wish I Was; Black Star; Sulk; and Street Spirit (Fade Out).
Released on March 13th, 1995 in the UK, The Bends peaked at number four on the album chart, where it spent a total of 16 weeks. Released as a UK single, Street Spirit would top Creep by reaching number five. The album struggled in the US, despite its music videos receiving heavy airplay on MTV and being recommended by the likes of REM's Michael Stipe. By the end of 1996 the album had sold over two million copies.
UK critics were largely ecstatic over The Bends, with the Guaridan writing that Radiohead had "transformed themselves from nondescript guitar-beaters to potential arena-fillers." Both NME and Melody Maker placed the album in their year end Top 10 lists. US critics were less receptive, with many dismissing The Bends as pretentious, though it's been re-evaluated in the years since, with Rolling Stone ranking it at number 276 on its list of the 500 greatest albums of all time.
If you don't want to be left high and dry, tune into Radio Nova at midnight tonight.