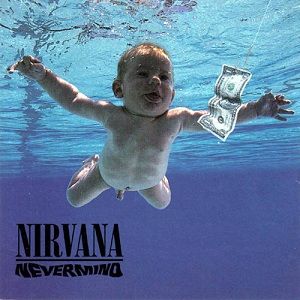 A rare commercial for Nirvana's third and final studio album, 1993's In Utero, has surfaced online ahead of a planned 20th anniversary reissue of the disc. The clip, made to resemble an old-fashioned TV advertisement, features comedian Bobcat Goldthwait in drag as a "militant" birthing instructor who supervises as Kurt Cobain, Krist Novoselic and Dave Grohl all launch plastic baby dolls from their nether regions.
In Utero followed the massively successful 1991 release Nevermind and included the hit single "Heart Shaped Box."
It was also the final full album recorded by the group before Cobain shot himself to death in April 1994.
Although there is no official announcement yet, a 20th anniversary edition of In Utero is reportedly in the works for this September and will include archival recordings, demos, rarities, interviews and more. A similar package for Nevermind was issued in 2011.
With the exception of "You Know You're Right," a previously unreleased cut that appeared on the box set With The Lights Out, Nevermind producer Butch Vig told us a while back that he didn't think there was much music left in the Nirvana vaults.
Here's the commercial: