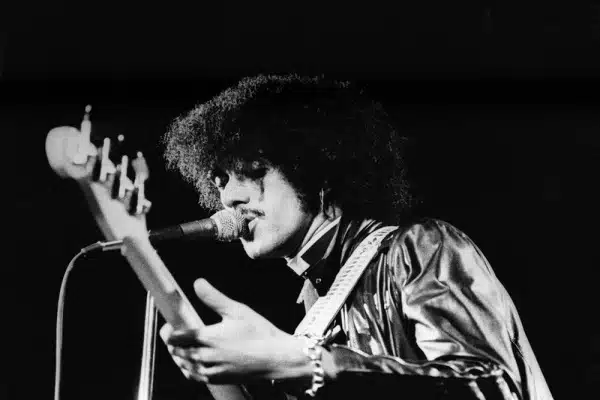 Would you like to listen to the article instead of reading it?
A rarely seen photo of the late Irish rock legend Phil Lynott emerged on the 37th anniversary of his death.
Thin Lizzy frontman Phil Lynott passed away from heart failure and pneumonia due to septicaemia, caused by heroin and alcohol addiction on 4 January 1986. He was 36 years old.
During his career, Lynott boasted several major rock hits, including 'Whiskey In The Jar', 'The Boys Are Back In Town', 'Old Town', and 'Jailbreak'.
Phil Lynott is buried in St Fintan's Cemetary, in Sutton Dublin, alongside his mother Philomenia.
In November 2021, the singer's film 'Songs For While I'm Away' also receivied a digital release, celebrating the life and career of Lynott. More on this here.
"Hard to believe"
Since then, a rare photo of Phil Lynott has emerged.
"The big, long-haired guy standing beside Phil with his back to the camera is Larry Mooney", an insider explained. "He was involved in the entertainment business, managing bands, promoting gigs, etc".
"Larry and Phil used to share a bedsit at Kelly's Corner, Dublin. Money was tight for both of them at the time and it was before Phil found fame".
"The bedsit consisted of one grotty room with two beds. There was just one bathroom in the building and that was shared by multiple tenants".
"Pals of Larry well used to joke that Phil had so many female callers that he seldom got a good night's sleep".
"Hard to believe but Phil is dead 37 years on January 4th. He was just 36 when he died, meaning he is now dead longer than he lived. Larry also sadly passed away some years ago".
Legacy Of Lynott
Here at Nova, Lynott's legacy with Thin Lizzy will be marked tonight, as our very own Tony Ainscough will play three hours of the band, celebrating the star that was Phil Lynott.
More on this here.