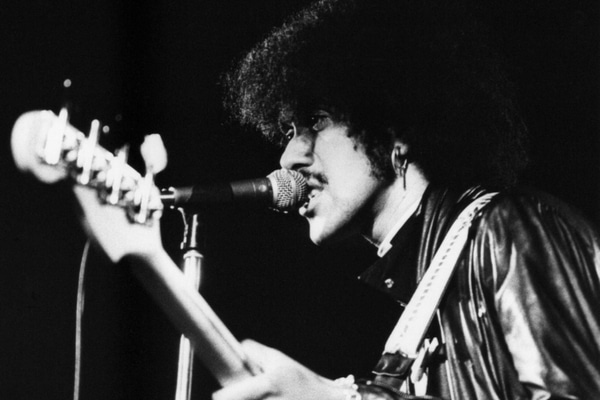 To this day, Phil Lynott still remains very much a cherished figue of the rock music industry.
Lynott shot to fame as the frontman of Dublin rock band Thin Lizzy. He sadly passed away in 1986 aged 36, three years after the band split up.
And now, Mercury Studios have celebrated Lynott's iconic status by annoucing the digital release of last December's film "Songs For While I'm Away". Directed by Emer Reynolds, this film explored the life of the iconic rocker.
The film was also produced by Alan Maher and John Wallace for Countdown Pictures, as well as Peter Worsley from Eagle Rock Films.
The film explored Lynott's life from growing up as a black man in 1950s Dublin, to becoming Ireland's major rocker as frontman for Thin Lizzy. The band bagged success in the 1970s with hits like "Waiting For An Alibi", "Jailbreak" and "Whiskey In The Jar".
There was of a course another hit that the band are known for, the small matter of "The Boys Are Back In Town" which catapulted the band to international success, hitting number 1 in Ireland, number 10 in the UK and even being a hit in the US and Canada.
"Songs For While I'm Away" – Phil Lynott
This film will also feature interviews from Lynott's Thin Lizzy bandmates Eric Bell, Scott Gorham, and Darren Wharton, along with their first manager Terry O'Neill.
Metallica's James Hetfield, Adam Clayton of U2, Brush Shields of Skid Row and Suzi Quorto also featured on this film which hit the screens last December.
"Songs For While I'm Away" also explores Lynott the man, as a father, son, husband and friend. Phil's wife Caroline Taraskevics is interviewed, as are his daughters Sarah and Katherine. Both daughters spoke last year about the strength they gained from their father's music, especially the two songs he wrote for them.
"It's nice to have a song written about you. When he is not around to say the things you want him to say. You have that reassurance and love", Sarah said of the tracks. Find out more on this story and listen to to the tracks themselves here.
A sculpture of the legendary rocker was also unveiled earlier this year at West Bromwich where Lynott was born.