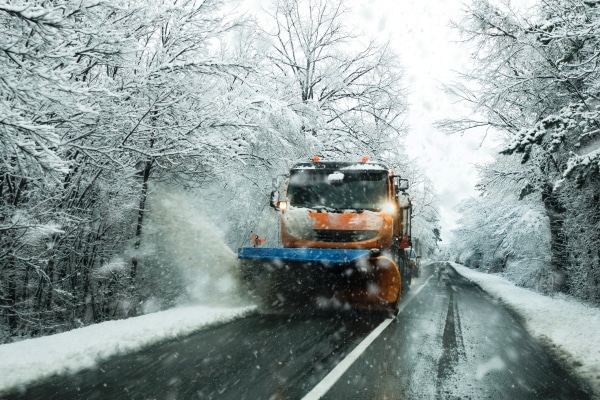 An Orange snow-ice warning is in place for much of the east of the country from tomorrow afternoon while a milder yellow warning remains in place for low temperatures in the whole country, as winds from the Arctic will cause temperatures to plummet.
The National Emergency Coordination Group met this morning and will continue to meet all through the week as the so-called 'Beast from the East' is expected to bite.
Forecasts for midweek in the capital are that temperatures will plummet to 0°c.
Motorists are advised that main roads will be prioritised, and we're told a red level warning could be declared before the week is out.
People are being reminded that some rural roads will be treacherous this week as the 'Beast From The East' makes landfall.
The country is bracing itself for one of the coldest weeks in years with snow and temperatures of -10 degrees forecast.
Evelyn Cusack from Met Éireann says the winds coming from Siberia will mean it's exceptionally cold, and said it's been more than 30 years since we've seen this kind of weather: "I'm not saying that it's going to be as bad, maybe it'll be worst."
It's likely that a Status Red Weather Warning could be issued for the country later in the week, according to the Housing Minister. So far, storm Emma is predicted to cause temperatures countrywide to fall as low as minus five tonight.
Minister Eoghan Murphy says the National Emergency Coordination Group is monitoring the situation closely: "It's certainly has the potential in the south and the east of the country to become a status red warning on Thursday or Friday. Whether that happens in the rest of the country again remains to be seen."
Extra emergency beds will open for rough sleepers, while shelters will remain open 24/7.
The Islamic Cultural Centre of Ireland is offering to allow homeless people take shelter in its mosque in Dublin hall during the storm. It'll open its large events hall in Clonskeagh to those in need from five tomorrow evening, until the storm has passed.
Meanwhile, ESB Networks are preparing for the forecast of snow and freezing temperatures. Damage may occur to the electricity network and ESB Networks has a full emergency response in place to address any power outages.
ESB Networks confirmed that all planned outages have been cancelled for this Wednesday, Thursday and Friday and will be rescheduled at a later date.