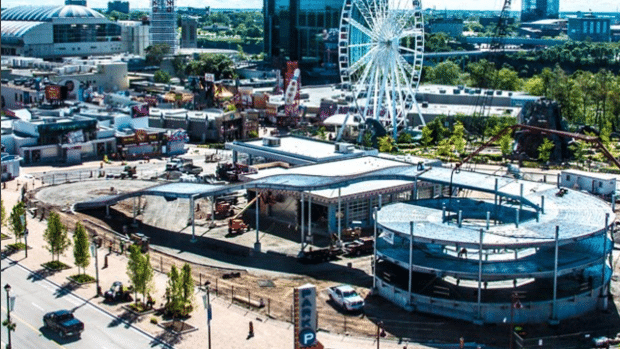 Countless hours of our childhood was spent mindlessly travelling through different race tracks, throwing out red shells at our enemies and fighting with our friends over who gets to be Bowser. We're talking about Mario Kart of course, one of the greatest video games of all time.
If you've ever felt like all you ever wanted to was to live a real Mario Kart experience, than rejoice because it's FINALLY happening.
In Niagara Falls, Canada there is set to be a Mario Kart race track. This is not a drill.
Tourism company HOCO Limited says its new "Niagara Speedway" attraction will be fully built on the Clifton Hill entertainment strip this fall, and after safety testing, should be open next spring.
According to CBC, Joel Noden, director of Marketing said "It's the only one of its kind in Canada…It's going to be a blast."
The speedway features a 12-metre spiral that winds up into the sky, and then spins down into a track that features loads of twists and turns.
The track consists of 1,500 cubic metres of concrete, and 193,600 kilograms of steel.
"Going down that ramp is like going down a roller coaster," Noden said. "There's nothing else around like it at all. It's a go kart track on steroids."
That won't be all that is available for thrill seekers. Along with the race track there will be a  zombie exhibit, an enhanced 4D motion theatre, simulators and a renovated Ripley's Believe It Or Not museum. The entire space, which will include a widened pedestrian walkway and 750-car parking lot, will occupy over 10-acres of space along Victoria Avenue.
Oh there also is some mad big waterfall or something like that in the area. So like that sounds cool too I guess.
Better dust off your old Mario Kart 64's and get practicing.
Photo Cred: Clifftonhillfun