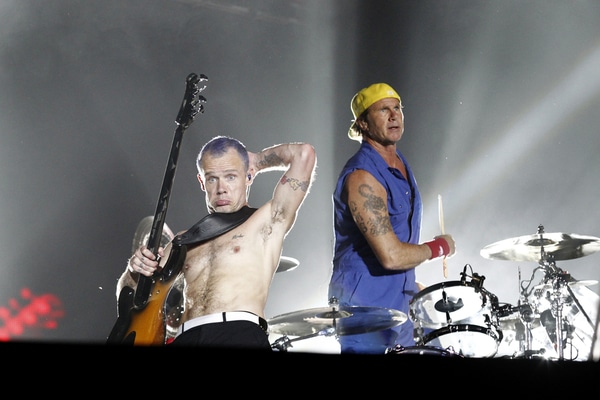 The Red Hot Chili Peppers marked the 30th anniversary of their classic 1991 album Blood Sugar Sex Magick by announcing their plans for a world tour in 2022.
The tour will see the funk rock group play headline gigs in major stadiums.
Tour dates have yet to be announced.
"All the tour dates, sales information, support acts and other factoids will be available shortly," a statement from the band reads.
The band released a light-hearted video to make the announcement. The video, which you can watch below, is presented as a breaking news broadcast from fictional network KHOT. Chili Peppers singer Anthony Kiedis, bassist Flea and drummer Chad Smith play news presenters interviewing guitarist John Frusciante about the tour.
"Might we expect you and the fellas to play live any time soon?" Flea asks Frusciante.
"Yeah, we're gonna do a tour starting in June 2022," the guitarist responds before confirming that the tour will cover "the whole world."
Frusciante left the Chili Peppers back in 2008 but announced his return in 2019. The upcoming world tour will be the band's first live performances since Frusciante's return.
Frusciante had been replaced by guitarist Josh Klinghoffer, who has now left the band. Klinghoffer recently joined Pearl Jam's touring band and made his debut with the grunge legends at New Jersey's Sea.Hear.Now Festival on September 18th. Klinghoffer said he holds no animosity towards the Chili Peppers for letting him go once Frusciante expressed a desire to return. He called their decision "pretty simple."
The Chili Peppers' most recent live performance was Klinghoffer's final appearance with the band, a benefit show in November 2019.
Upon Frusciante's return the band announced that they would be working on new music, but their rehearsal plans were disrupted by the pandemic.
"We were rehearsing for a couple months, then the quarantine started, and we stopped rehearsing for a couple months, then we went back to rehearsing," Frusciante said last October. "We're moving ahead with what we're doing, writing new music."
Earlier this year the Chili Peppers struck a deal worth a potential $100 million to sell their song catalogue to Hipgnosis.
Chili Peppers drummer Chad Smith is the father of young singer-songwriter Ava Maybee. Earlier this summer Maybee shared a video of her performing a cover of the Chili Peppers' Universally Speaking on piano.
View this post on Instagram