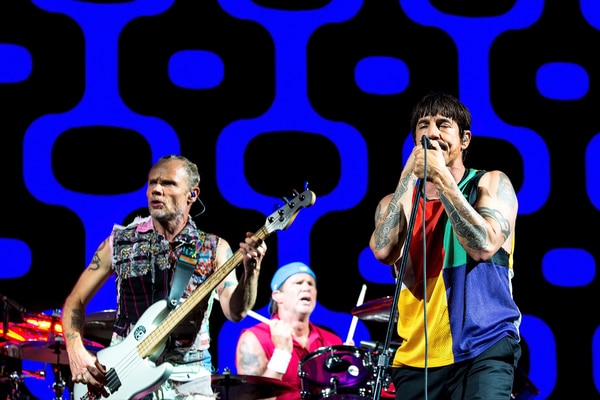 Red Hot Chili Peppers are to embark on a new World Tour in 2022.
These will also be the band's first live tour dates since guitarist John Fusciante announced he was returning to the band after leaving ten years ago.
The band have now confirmed that they will tour next year.
"play live any time soon"
This news was confirmed via a spoof press conference from the fictional KHOT radio station.
In the video, Red Hot Chili Peppers band members Chad Smith, Anthony Kiedes and Flea interview Frusciante.
Flea can be heard asking Frusciante, "Might we expect you and the fellas to play live any time soon?". Frusciante responds that the tour will begin in June 202. before hitting the US in July.
While no dates have been officially confirmed, fans can sign up for the mailing list here, to be notified on details in the future.
Check out this "Press Conference" here.
Red Hot Chili Peppers back with "lots of great music"
Earlier this year, drummer Chad Smith had said that the band would be returning with "lots of great music".
"We're coming back and it's going to be great", he declared.
On Frusciante's return to Red Hot Chili Peppers, Smith also revealed, "We've known each other for so long — obviously, 30-plus years — so it's like putting on a nicely well-worn pair of shoes that feel really good, and you get back in there and it's comfortable and a little bit different, but still we're doing our thing".
Adding, "So it's been really fun". 
More on this here. 
Red Hot Chili Peppers also sold their back catalogue for under €120 million to Hipgnosis Song Fund. The company have also acquired the back catalogues of the like of Lindsey Buckingham and Neil Young.
The company also bought the rights to the back catalogue of former Fleetwood Mac bandmate of Lindsey Buckingham, Christine McVie.