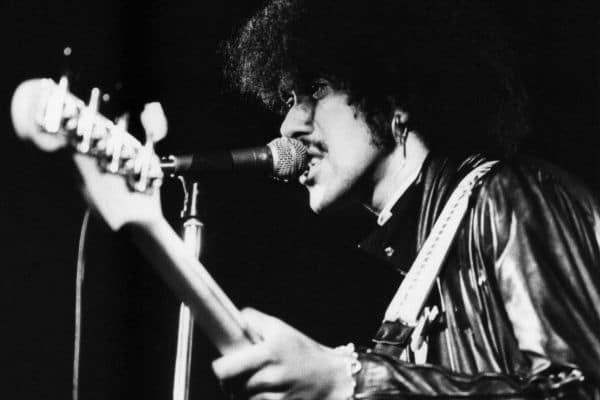 Would you like to listen to the article instead of reading it?
Thin Lizzy are to release a special 45th anniversary reissue of their live album Live And Dangerous.
Recorded in London and Philadelphia, Live And Dangerous is considered by many to be the greatest live album of all time.
Following its original release in 1978, Live and Dangerous spent almost three months in the UK Top 10.
It only missed out on top spot by one of best selling albums, pipped to the post by the soundtrack to Saturday Night Fever.
While the album was initially intended to be a studio record, with Tony Visconti, Thin Lizzy achieved huge success with that record, and were keen to work with him again.
However, due to Visconti's tight schedule, Thin Lizzy frontman Phil Lynott decided that the band should work with him on a live album for two weeks instead.
Live and Dangerous
This double platinum selling record was also recorded during the Johnny the Fox and Bad Reputation Tours.
This reissue will arrive as a definitive 8 CD super deluxe version, including a booklet with rare photos and memorabilia, along with sleeve notes with new Thin Lizzy interviews by Mark Blake.
The album will also feature a newly remastered version of the original Live and Dangerous album, including all of the gigs recorded from the album.
Along with being overseen by Thin Lizzy guitarist Scott Gorham, the reissued Live and Dangerous has been newly mixed by Ben Findlay from the original multi tasks and mastered by Andy Pearce, including the live six shows from Toronto, Philadelphia and London.
You can pre order the live album for yourselves here.
Last week, a rare photo of the band's Phil Lynott also emerged on the 37th anniversary of the singer's death.
Lynott died in January 1986, he was 36 years old. He is buried in St Fintan's Cemetary, in Sutton Dublin, alongside his mother Philomenia. More on this here.