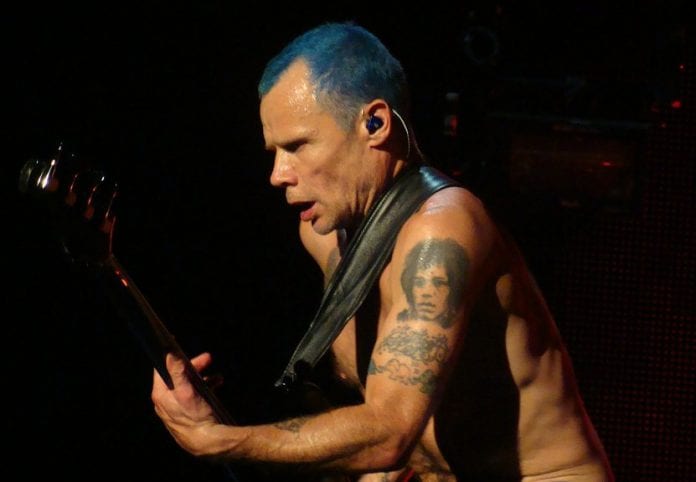 The Red Hot Chili Peppers bassist has spoken out against politicians cutting the budgets for music education in public schools and colleges. "It's child abuse," he said. "It's just wrong."
When Flea visited a high school in 2000 he found that the music room had barely any instruments. He told Rolling Stone, "They had maybe one or two acoustic guitars, a boom-box, a volunteer teacher, and they were sitting around talking about music. I was so disheartened. I was like, 'Where's the orchestra? Where's the band?' And I was told they cut out all the funding for that stuff. They didn't have instruments for the teachers anymore. It really shocked me."
After Flea then discover a musical community centre which had been founded by Jazz musician Horace Tapscott, Flea cofounded the 'Silverlake Conservatory of Music' in 2001, alongside some of his friends.
The music school is a non-profit business which expanded from a small storefront into a new space in LA last year. Flea originally paid for the school out of his own pocket, but now annual fundraisers are held to help raise funds. The school grants free lessons and instruments to students, offers private music lesson for band and orchestral instruments and also offers ensemble classes.
Flea is proud of the school and encourages others to help their own communities too. "I encourage everybody to reach out into the communities they live in and do what they can to help out."
This year's fundraiser takes place in the Conservatory's new location on September 9th and will also feature an art auction. Works by Jonas Wood, Thomas Houseago, Alison Mosshart and more are set to be included. And in terms of music, Anderson Paak, Randy Newman and of course, The Red Hot Chili Peppers are set to perform.
"We play it almost every year," Flea said. "This year we're going to play acoustic and we're going to be joined by the children's choir from the school."
Definitely a gig to put in the diary if you happen to be in LA this September!
Photo Credit: Hanryswyk