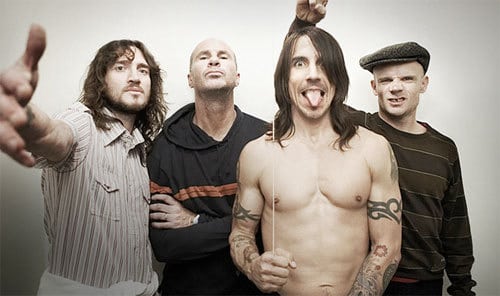 Peppers launch free app for mobile devices.
Alternative funk-rock mainstays the Red Hot Chili Peppers have released a new mobile app to keep fans up-to-date with all things Peppers. The app, named "Red Hot Chili Peppers Official," offers band news, photos, videos, tour updates, merchandise and more. The app also features the group's latest Tweets. The best part? "Red Hot Chili Peppers Official" is absolutely free! The app is available via the Apple iTunes store and the Android market.
In other Peppers news, the band recently rescheduled the first leg of their North American Tour, due to lead singer Anthony Kiedis' recent foot surgery. Find an updated run of tour dates, here.
The socktastic guys are also being inducted into the Rock and Roll Hall of Fame this year. Kiedis recently told Rolling Stone magazine that his first thought when he learned of the honors was wishing late guitarist Hillel Slovak was around to enjoy the success. "The most emotional part for me was thinking about Hillel Slovak. That was where it got me," he said. "I felt very good about it, but I felt very much like our work has only just begun. Now that we've got Josh in the band, we have a chance to make some great records over the next few years.
"But there was something about going back and thinking about something that we started in a living room with Hillel Slovak. Because he's no longer with us, it seemed emotional and beautiful. It's really kind of his induction that I'm most excited about. He's a beautiful person that picked up a guitar in the 1970s and didn't make it out of the 1980s, and he is getting honored for his beauty."