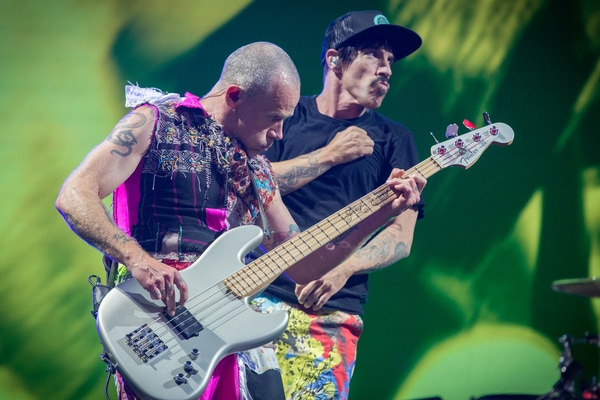 The Red Hot Chili Peppers are set to launch their own channel on the Sirius XM radio network.
The channel, named Whole Lotta Red Hot, will launch this Friday, April 1st.
The channel launches on the same date as the release of the Chili Peppers' new album Unlimited Love. The band will launch the channel with an exclusive track-by-track commentary on their new album.
Whole Lotta Red Hot's programming will be composed of studio and live tracks from the band's lengthy career along with handpicked favourites of the band members. Fans will also be treated to stories and anecdotes from the band. A classic concert from the band's past will receive its premiere each month, beginning on Friday with a 2006 show recorded at the Los Angeles Forum.
Later this year the Chili Peppers will take to the stage at New York City's Apollo Theatre for an invitation-only show for Sirius XM subscribers, which will air on the channel.
The band say the new channel will treat fans to the "vast, funky world of the Red Hot Chili Peppers."
Tomorrow, May 31st, sees the release of the latest single from Unlimited Love, These Are the Ways. It follows previous singles Poster Child, Not the One and Black Summer.
The Chili Peppers are to get their own star on the Hollywood Walk of Fame.
The star will be unveiled on March 31st at 6212 Hollywood Boulevard next to record store Amoeba Records.
The unveiling ceremony will be hosted by George Clinton, the funk legend who produced the band's 1985 album Freaky Styley. The ceremony will be co-hosted by Woody Harrelson, Bob Forrest and Hollywood Chamber of Commerce chairwoman Nicole Mihalka.
"Our hometown Hollywood boys are finally coming to collect their star on the Hollywood Walk of Fame," said Walk of Fame producer Ana Martinez. "We have been waiting for them to break away from their busy schedules to dedicate their star, and we are thrilled to welcome them to our Walk of Fame family."
Unlimited Love will be the Chili Peppers' first album to feature guitarist John Frusciante since 2006's Stadium Arcadium. Frusciante returned to the band in 2019.
"When we got together to start writing material, we began by playing old songs by people like Johnny 'Guitar' Watson, the Kinks, the New York Dolls, Richard Barrett and others," Frusciante said of Unlimited Love. "Ever so gradually, we started bringing in new ideas, and turning jams into songs, and after a couple of months the new stuff was all we were playing. The feeling of effortless fun we had when we were playing songs by other people stayed with us the whole time we were writing. For me, this record represents our love for, and faith in, each other."