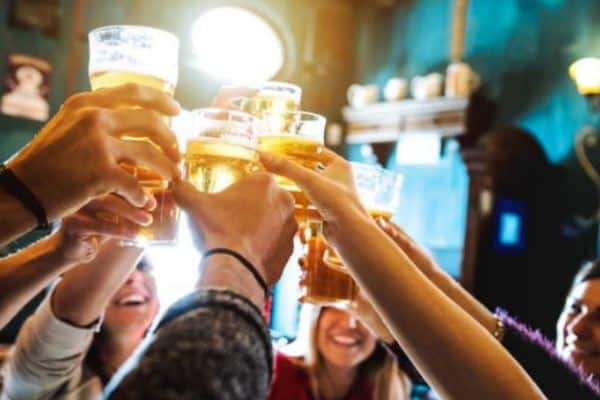 Live music won't be returning to indoor venues such as pubs until 85-90 percent of Irish adults are fully vaccinated, according to Government officials.
The announcement comes as Irish musicians and entertainers demand a set date for the return of live music at Irish indoor venues.
Earlier this week officials from the Department of Arts and Culture met to discuss the reopening with representatives from the Music and Entertainment Association of Ireland.
MEAI's Matt McGranaghan reported:"It's the first time we've got any kind of indication of any kind of concrete figures relating to that.
"It was the Department that told us that and I'm guessing that policy filters down from the rest of ­Government and NPHET.
"They are looking for the vaccination rate of 85 to 90 per cent.
"They said they will take into ­consideration that there will be a percentage of the population who will not be vaccinated but there are other ways then.
"They said they would take into consideration things like antigen testing for those who, for whatever reason, aren't vaccinated so they can access indoor activities as well."
Prof Brian MacCraith, the head of Ireland's vaccine taskforce, also revealed yesterday that 79 percent of adults in Ireland are fully vaccinated at the moment, and that 89 percent have received at least one jab.
Focus has now been shifted to administering vaccines to those aged between 12 and 15, with over 6.2 million doses having been delivered so far.
MacCraith reported that just under 60 percent of the country's entire population including children, have been fully vaccinated as of an August 10 report.
Musicians and entertainers throughout the country are demanding that the government set a date at which the performers can return to performing live music from indoor venues.
MacGranaghan, who is also a fiddle player, told the Irish Sun, "We need dates. We need dates now. A roadmap will give certain instructions on what can happen but what we want is dates.
"Put a date down and create the guidelines to work for that. The indoor hospitality pushed for a date, got their date and the roadmap and guidelines and everything was created with that in mind."
Last week Government representatives announced that outdoor live music events could return with a maximum of 200 people in attendance.
When asked about the target of 90 percent full vaccination, a representative for the Department of Arts and Culture said:"These meetings are to advise ­stakeholders of the commitment ­provided by Government on Friday that building on the success of the national vaccination programme and public health response to date, the next phase of the Government's response will involve a clear roadmap for the sustainable reopening of activities in the live entertainment, culture and arts sectors.
"The Government will continue to monitor the progress of the disease and of the vaccination programme during August.
"It will also continue to receive and consider public health advice from the National Public Health Emergency Team."