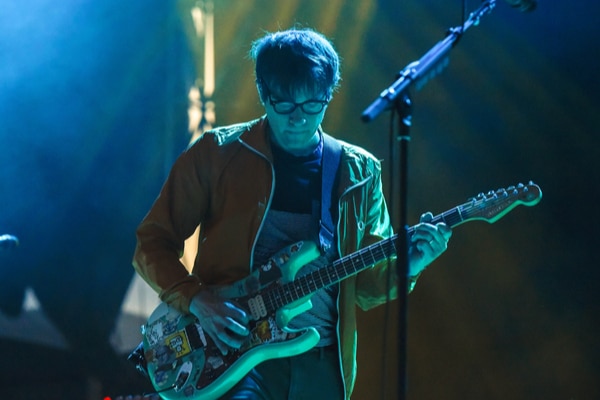 American musician, singer, songwriter, and producer, Rivers Cuomo has built his own streaming platform to host thousands of demos. Capitalising on his computer programming skills, the Weezer singer/guitarist created the app and fittingly named his new service; Weezify.
Previously selling over 2,500 unreleased demos as part of a final project in web programming, Rivers has taken another step forward and decided to create a new streaming service app. The musician claims to have spent "all of 2021" making nearly 3,500 demos – recorded between 1975 and 2017 – available via the app. If you would like to check out the new platform, Weezify is available via Apple and Google Play, and can also be found via Cuomo's website.
Tired of Spotify? Come on over to Weezify. https://t.co/sZ97eMbOXwhttps://t.co/DcKQVGeQ38https://t.co/c9oCph9EwW

— Rivers Cuomo (@RiversCuomo) January 30, 2022
Within the app's description, programmer claims his platform acts as a "Spotify-like player for all of Rivers Cuomo's demos (1975 – 2017). Close to 3,500 demos. Follow curated playlists. Create playlists of your favourites. I made this app myself. It took me all of 2021 to make. I hope you enjoy it."
With streaming services continuing to gain popularity, many artists have uploaded their tracks and may have likely signed bumper contracts. However, the payment system has been detested by many artists who feel they do not receive their appropriate fee. In creating their own streaming platform, as Rivers has, artists could take matters into their own hands and receive their acquired worth. This having been said, Weezer's music remains available via multiple streaming platforms.
Following the completion of his streaming player, Rivers can now focus on releasing the upcoming Weezer planned Seasons series. The musician had written four albums during the pandemic downtime, each named after each weather season, and will release accordingly throughout 2022.
Last July, River confirmed that "each album comes out on the first day of the season. Spring is kind of like happy chill. And then we move through to dance rock, like a Strokes-style album for the fall, and then sad acoustic, Elliott Smith-style for winter."
Spring will this year begin on Sunday, March 20th, which could possibly mean that Weezer will release its initial album.