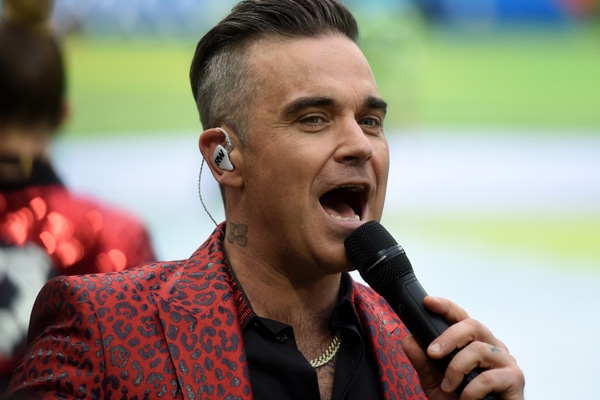 Robbie Williams recently revealed that he left the UK after receiving some bad comments from those bullies, the Gallagher brothers. Williams, 47, had been exchanging words with the Oasis brothers for the past two decades, during the peaks of their careers.
Robbie challenged Liam to a £100,000 bet that he would win a fight between the two, after Noel called him a "fat dancer". The Let Me Entertain You star described the feud as "unbearable" while speaking on the Talent Takes Practice podcast.
"My brand of entertainment wasn't deemed worthy because of how I presented myself," he declared. "There was a culture of 'Robbie Williams is not cool'. That was apart from the three million people who bought my albums. Every time I watched TV programmes, there were people being hateful about me. That was just wrong and grotesque. It was unbearable. I just left the country".
In 2004, Robbie left the UK behind him for a new life in sunny Los Angeles. The singer went on to claim, "Liam said that I should be hung, Noel said I was 'the fat dancer from Take That'. I remember every single syllable of every single thing they've ever said about me".
The feud dates back over the past two decades. Although, Liam and Robbie started off as good friends and even partied with one another at the 1995 Glastonbury festival. However, Williams fell out with the brothers, after Noel's 'fat dancer' comment.
Last May, Liam offered an olive branch to Robbie after it was revealed Robbie's father, Pete Conway had been diagnosed with Parkinson's disease. Despite making up with Liam, it appeared that Robbie still holds some bitter feelings towards his brother Noel.
Robbie "Can Talk For Hours About Why Noel is S***"
"I could talk for two hours about why Noel's s***," Robbie said. "Isn't it interesting what a few words can do to your whole life? I'm not healed".
Despite their war of words over the years, Robbie recently hailed Liam as 'iconic' and 'the voice of a generation', prompting a fan in a separate exchange to ask the For What It's Worth singer if his fight with his rival was off – to which Liam replied: "There was never gonna be a Barry, peace n love (sic)"
A new film about the life of Robbie Williams is coming soon. Better Man is set to explore the singer's life and career and is to be directed by Michael Gracey, known for The Greatest Showman. Gracey said the biopic will also explore Williams' demons, having spent hours speaking with the former Take That singer.