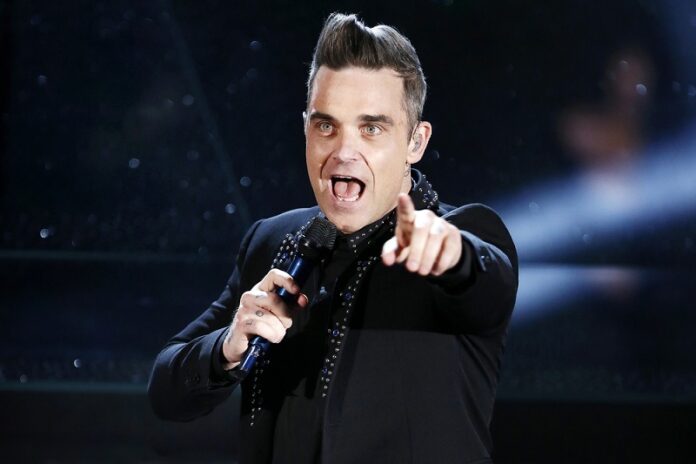 Robbie Williams can't see himself getting the Christmas number one this year and it would take a Christmas miracle for him to do so.
The former Take That singer released his Christmas single this week called 'Can't Stop Christmas'. The song references the pandemic and how 2020 has been a year like no other. "Oh what a miserable year/it's never been like this before/Santa's on his sleigh but now he is two metres apart" sings Williams.
He continues the pandemic theme by wanting "socks and sanitiser " for Christmas. Surprisingly, Williams even refers to this year as being dystopian by referencing George Orwell's classic 1984 novel – "Let's lie to Santa and tell him it's 1984".
You can check the song out below.
The singer was interviewed for Smooth's Virtual Coffee Break and he said "I'm not in it, so I think those days for me being in the singles, high in the singles charts, have moved on. I'm an albums kind of person now, which is wonderful. But I don't even look at the charts now".
Robbie Williams is no stranger to Christmas number ones. In 2001, he topped the Christmas charts with Nicole Kidman with the cover of Frank Sinatra's 'Something Stupid'.
In the interview, Williams laid out his upcoming plans. "TV shows, films, two albums, I'm starting a band, I've got art, I've going to have a gallery and I'm going to DJ at the gallery in the evening and I want to do that in Berlin, I want to do that in Tokyo. There's just, there's so much."
He continued "All of this might not happen. See I have this like splatter gun sort of idea. And then maybe one out of ten gets done. But these are all the ideas that are formulating in my head and I want Covid to end so we're all healthy, but on a personal selfish level I want Covid to end so I can just crack on with these projects."
When asked about the possibility of touring next year, Williams said "Covid willing. Who knows what's going to happen? I'm just sat here crossing my fingers, thinking about what ifs and maybes. And let's just hope it's possible."
Robbie Williams released The Christmas Present last year and is releasing a new version of it this year. The new edition sees collaborations with Rod Stewart, Bryan Adams and Tyson Fury. The album went to number one in the album charts, giving Williams his 13th number one. He now has the same amount of number ones as Elvis.
His Christmas album, along with other special Christmas merch can be purchased here.