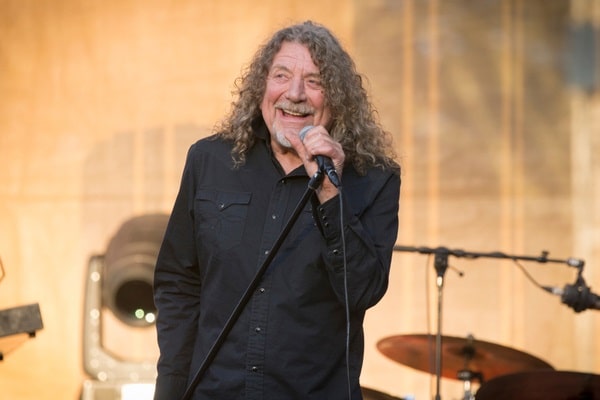 Would you like to listen to the article instead of reading it?
Robert Plant has shared his memories of Led Zeppelin's reunion show from 2007, which took place for the Ahmet Ertegun Tribute Concert.
The band's one-off reunion which Plant has described as "nerve wracking", took place at London's O2 Arena, holds the record for 'Highest Demand for Tickets for One Music Concert' with 20 million requests for requests for tickets.
It also saw Jason Bonham, son of late Led Zeppelin drummer John Bonham deputise for his late father in London.
The show included a star-studded line up, featuring artists such as David Gilmour of Pink Floyd, Keith Emerson, Jeff Beck, Paul Rodgers, Dave Grohl, Pink, Red Hot Chili Peppers' Chad Smith, Joe Elliot of Def Leppard, Noel and Liam Gallagher, Queen's Roger Taylor, and Snow Patrol.
It was also attended by A-list celebrities Naomi Campbell, and Kate Moss among others, including presenters Jeremy Clarkson, Chris Evans, comedian Vic Reeves, British film director Richard Curtis, and former Republic of Ireland soccer team manager Martin O'Neill.
"a responsibility to ourselves"
Reflecting on this one-off show, Plant admitted that it was "nerve wracking" for himself and the band.
"It was nerve-wracking, because we were already missing John Bonham", Plant revealed.
"The responsibility the four of us had that night, the 10th of December in London, was a responsibility to ourselves, to get it right, with enough feeling, because we hadn't visited it as a way of being for such a long, long time. It was 'Goodbye Ahmet [Ertegun]' and it was, 'Goodbye, everything, it's been fantastic!' So it worked, and it was good, and that was it".
Back in 2012, Robert Plant admitted that another Led Zeppelin reunion concert was unlikely.
"We were enjoying it for all the right reasons," Plant said of the 2007 show. "But there hasn't been a whisper since then about doing anything and so I can't really see that anything will happen. If it was going to happen, it would have happened by now".
"The great thing for the three of us and Jason – and probably because of Jason – was that it really did work," said Robert Plant. "We were able to creep up through the undergrowth of all the ensuing years and peek through and get back into it".
Following John Bonham's death, Led Zeppelin split up in 1980. Plant launched his solo career, releasing his album Pictures At Eleven in 1982.
Back in January, Plant praised former Genesis lead singer Phil Collins for helping to launch his solo career. More on this here.