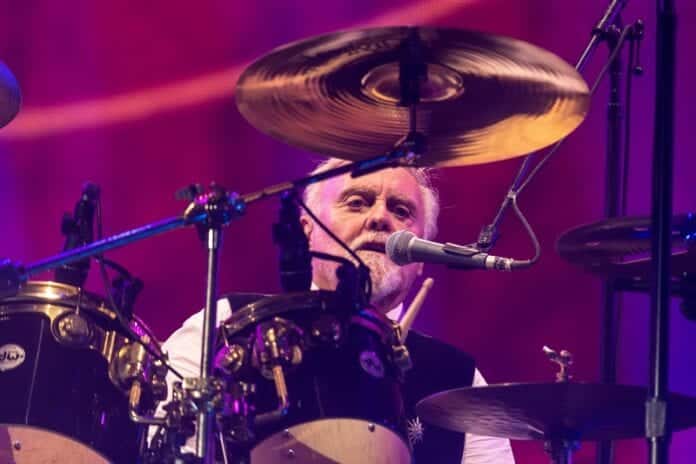 Queen drummer Roger Taylor has finally quashed the rumours that suggested George Michael was to replace Freddie Mercury as their lead singer.
The late singer fronted Queen for their last three songs at the Freddie Mercury Tribute Concert at Wembley in 1992.
This led to widespread speculation that George Michael would join Queen.
However, this never materialised and in a new interview with Classic Rock, Roger Taylor has put those rumours to bed, as Michael wouldn't have suited Queen.
"I remember hearing the rumours but it wouldn't have suited us."
"George wasn't really used to working with a live band. When he heard the power he had behind him in rehearsal, he couldn't believe it. He thought he was on Concorde or something".
Taylor did describe Michael's performance as "magnificent." The Wham singer performed '39', 'These Are the Days of Our Lives' (with Lisa Stansfield) and 'Somebody to Love' with Queen.
The latter two tracks appeared on 1993's Five Live, an EP by Michael and Queen that benefited the Mercury Phoenix Trust.
Following the release of the EP, George Michael and Brian May spoke to MTV about their collaboration, AIDS awareness and Mercury's legacy.
George Michael said "It was probably the proudest, proudest moment for me of my career, because it was me living out a childhood fantasy, I suppose, to sing one of Freddie's songs in front of 80,000 people. It was a really strange mixture of incredible pride and real sadness for me."
While Brian May praised Michael for his performance.
"I would have to say it was a thrill to work with George Michael," he added. "Without any kind of falseness, he was one of the great surprises to most people of the evening, I know. It wasn't a surprise to me because I knew he could do it. I knew he had that in him…"
"And from the moment he stepped into the rehearsal room and was doing 'Somebody to Love,' we went, 'Whoa.' I think in most people's feeling, he got closest to the range of Freddie himself."
With comments like that, it is no surprise that there were many rumours about Michael joining Queen.
In other Queen news, Roger Taylor is the latest the musician to slam the UK Government on how Brexit will impact future tours for British artists.
Speaking to the BBC, Taylor said "Borders are a dreadful invention of mankind, and so we are just putting up another one, and I think it's a dreadful retrograde step."
For more, check out Radio Nova's report here.