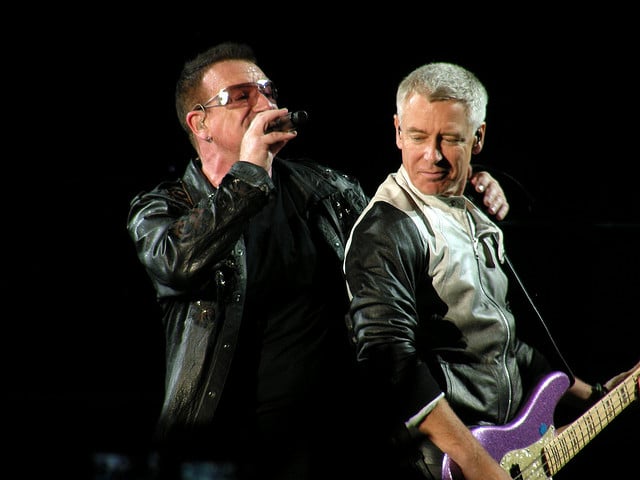 U2 have shared a new short film titled 'Every Breaking Wave', featuring two tracks for their album Songs Of Innocence.
The movie is part of a video project titled 'Films Of Innocence', which will see each of U2's 11 tracks from their latest album turned into short films.
The videos are "original works of video art transpose their visions from the physical to the digital and are collected here together as a visual counter-point to the album, a set of unique and compelling 'Films of Innocence'."
The 'Films Of Innocence' project is described as: "11 of the world's most acclaimed urban artists unveil their work through a collection of art films, inspired by U2′s Songs of Innocence. Taking the political murals of Northern Ireland as a reference point, U2 pioneered the project to celebrate the unique democratic power of urban art."
The 13-minute film is set in Northern Ireland, featuring a romance between a Catholic teenager and a Protestant teenager. The backdrop to the short, is the troubles in the eighties.
The movie includes two songs from the Irish rockers, 'Every Breaking Wave' and 'The Troubles'.
Speaking about 'Every Breaking Wave', Irish director Aoife McArdle said: "I wanted to make a film about what it was like to be a teenager in the early '80s in Northern Ireland. All the different pressures on you, the pressures of friendship, of falling in love for the first time, and all that in the face of huge troubles. Violence was inescapable on your doorstep. I remember very vividly what it was like to grow up when there were bombs going off and army everywhere so I did draw on a lot of memories."
"I hope people see that it's a story. A story that's based on real stories. It's like capturing a time. And I hope people feel inspired by how resilient teenagers at that time were in Northern Ireland, and moved by their ability to live life in as full a way as possible, despite the circumstances."
Watch 'Every Breaking Wave' below.