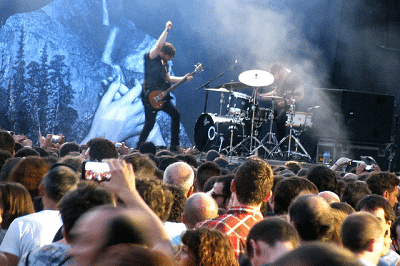 The Brighton duo Royal Blood rolled in to Dublin last night for their only show in Ireland on their Autumn tour.
The evening of a Bank holiday Monday isn't generally something people look forward to, it's the end of the long weekend, everyone is dreading work the next day.
However, there are exceptions to the rule, last night was one of them, Royal Blood played the Academy on Middle Abbey Street.
The band Comprises of drummer Ben Thatcher and bassist-vocalist Mike Kerr, the two-piece formed at the beginning of 2013.
The rock duo have garnered praise for their big riffs, thunderous pounding drums and fat distorted bass lines, basically they're pure rock. They have been compared to the likes of The White Stripes, Queens of the Stone Age and The Black Keys.
This is a gig that has had a tonne of buzz about it, the latest darlings of NME have really taken off since their self-titled debut dropped last month. Not only did their album go straight into the number 1 spot but the band also achieved the fastest-selling rock debut in three years.
The Brighton duo managed to shift an impressive 66,000 copies in the first week, more than any rock debut. The first-week figures make it the highest-selling rock debut since Noel Gallagher's High Flying Birds' self-titled release in 2011.
Royal Blood kicked off the show with the song 'Hole' from their four track EP titled Out Of The Black, followed by the energising 'Come On Over' and 'Figure It Out'. Things really started getting wild by the time they began playing their second last tune 'Loose Change'.
As the concert progressed the fans got more rowdy, people were flung into mosh pits whether they liked it or not. I saw the same guy pass over me three times crowd surfing, his legs and feet flailed near my head several times and he nearly suffered multiple concussions with the lack of ample crowd support but it did not deter him from going back again and again.
The last song 'Out Of The Black' was quite an event, never have i experienced a group comprising of only two members, have one half leap from his drum kit mid-song to take part in some good old fashioned crowd surfing.
The Academy's bouncers looked anxious as Ben Thatcher thrust himself into the Irish crowd. Thankfully after bobbing around for a short time, he was returned to the stage unharmed and resumed the final track with added zest. The completion of the performance was obviously meet with a wall of of cheers and applause, though strangely the trademark "one more tune" wasn't hollered.
Watch Royal Blood's drummer Ben Thatcher go crowd surfing below.
Royal Blood kicked off their Autumn tour in style, they came, they saw, they conquered Dublin.
Set-list:
Hole

Come On Over

You Can Be So Cruel

Figure It Out

You Want Me

Better Strangers

Little Monster

Blood Hands

Careless

Love & Leave it Alone

Ten Tonne Skeleton

Loose Change

Out of the Black