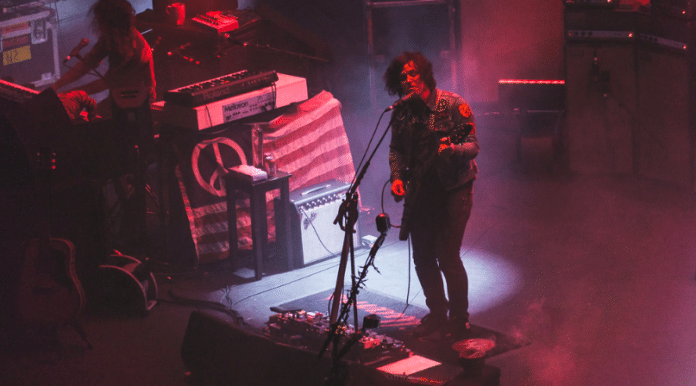 Ryan Adams has seriously celebrated Valentines Day the right way, by releasing a new track aptly titled 'Baby I Love You'. It's a rocky romantic tribute to a dwindling romance, not surprising as his last record 'Prisoner', dissected his six-year marriage to actress Mandy Moore. The marriage ended in 2015. Check out the new track below:
Adams hasn't been feeling the love in recent months though. As he has hit out at numerous musicians including, Father John Misty, Alt-J, The Strokes and more.
Speaking about Alt-J, he described them as a 'mosquito bite' at Lisbon's NOS Alive festival, adding 'If you ignore it, it will go away.' He also remarked on Twitter that Father John Misty is 'the most self-important asshole on earth'.
He also added: 'Julian Casablancas: who got you strung out on lasagna tho?' Rude.
 But he didn't stop there, he seems to have a special hatred for The Strokes, going on:
'I should have got them addicted to writing better songs. Too bad The Killers did it for them' and 'I sold more t shirts last night than people who actually made it thru a single Voidz song, bro – what's he gonna do? Sit on me?'
This all seems to stem from comments that The Strokes made about Adams earlier last year. The band apparently claimed that Adams was in some way responsible for Hammond Jr.'s past heroin addiction. These comments were featured in Lizzy Goodman's 'Meet Me In The Bathroom: Rebirth and Rock and Roll in New York City, 2001–2011', which is set to become a film, depicting the rise of New York bands 'The Strokes', 'LCD Soundsystem', 'Interpol' and more.
The bandmates described Adams as being a bad influence on Hammond's past addiction.
'I remember Julian threatening to beat Ryan [Adams] up if he hung out with me, as a protective thing,' said Albert Hammond Jr. 'He'd heard that Ryan would come and give me heroin, so he was just like, 'if you come to my apartment again with heroin, I'm going to kick your ass'.'
Hammond continued: 'I hadn't really been doing it in baggie form until Ryan showed up. He was definitely a bad influence.'