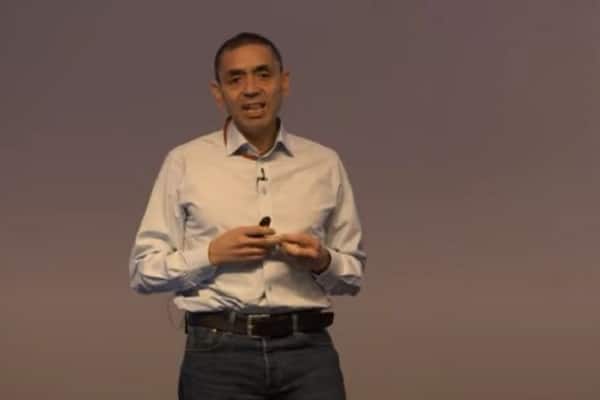 Europe could see herd immunity by as early as July, or August, according to the head of German pharmaceutical company, BioNTech. Members of the EU are beginning to ramp up their vaccination process following previous criticism, prompting Chief Executive, Ugur Sahin to be optimistic.
Sahin told reporters on Wednesday, "Europe will reach herd immunity in July, latest by August". The exact threshold required to reach immunity remains a topic of discussion, experts say anything above 70% would significantly disrupt transmission of the virus within a population.
Mr Sahin said the immune response gets weaker over time, according to data from people who have received the vaccine. As a result of immunity becoming less responsive over time, a third shot will likely be required in the future. Sahin said studies show the efficacy of the BioNTech/Pfizer vaccine declines from 95% to about 91% after six months.
"Accordingly, we need a third shot to get the vaccine protection back up to almost 100% again" said Sahin. "And then I expect it will probably be necessary to get another booster every year or perhaps every 18 months again."
New variants of the virus emerging from different parts of the world have raised concerns that existing vaccines might not be strong enough. According to Sahin, BioNTech's vaccine has been tested on over thirty variants, including the now-dominant strain detected firstly in Britain.
In a lab setting, they found that the vaccine triggers a good immune response against almost all of variants available to them. Without providing exact figures, Sahin said the shot remained sufficient in cases where the immune response was weaker.
According to reports, Sahin also called on European governments to continue exporting the vaccine produced in the EU, so the region could expect to achieve herd immunity by late summer. However, he said it would be of little use if Europe were safe, yet the virus continued to spread elsewhere.
As vaccines have so far only been approved for people over 16, he cautioned that herd immunity would not include children, initially. However, there has been a small number of children who have fallen ill with the virus suffer from a serious illness or long-term effects.
He continued to say that BioNTech expects Chinese health authorities to approve its vaccine "by July at the latest". The German pharmaceutical company would begin then to distribute the shot in the far-eastern country that month. Whilst describing its local partner, Shanghai Fosun Pharmaceutical Group Co Ltd as "a great company", Sahin said he is "optimistic that we can help the people of China".