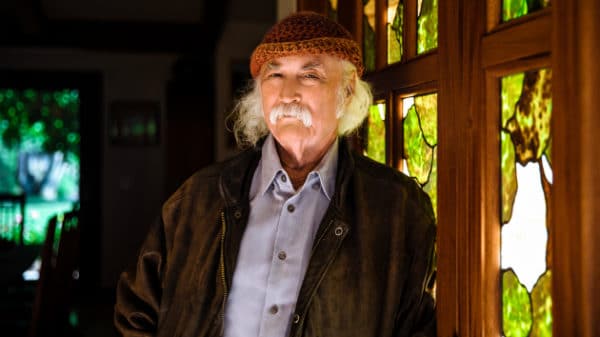 Every day at 4:30 on Radio Nova, Pat Courtenay brings you seriously addictive music news and here are the stories that matter today.
As the whole world battles the Coronavirus pandemic, the music industry is one that suffering badly. The pandemic is hitting all musicians, including legendary musician David Crosby. Crosby has revealed he is selling some of the publishing rights to his music in order to keep afloat during the pandemic. One can only imagine how less fortunate musicians are surviving.
In an interview with American Songwriter, Crosby explained the decision. With the advent of streaming and with concerts postponed indefinitely due to the pandemic, he had no choice but to sell publishing rights to his music.
"I usually have two ways that I work. I can either make records or do concerts, those are the two ways I make money. Then, streaming came along, and I don't make money from records anymore. That's done. Nowadays, you go in, you record, you do your job for a month and they give you a nickel. Streaming doesn't pay us squat, you couldn't feed a squirrel on what they pay us" said Crosby
The singer went on to add "So, with that I lost half my income." It was hard. I saved my publishing all this time. I didn't even sell my publishing when I was a goddamn junkie, and a junkie would sell their mother."
Discussing his new album, Crosby says his favourite song on the album is one written with his son and long time collaborator James Raymond called "I Won't Stay for Long."
"If that song doesn't break your heart, then you don't have a heart" said Crosby.
He also revealed that his new album is nearly completed. "It's getting mastered this week. Five records in six years, which makes me very happy" said Crosby. Steel Dan frontman Donald Fagen and former member of The Doobie Brothers, Michael McDonald also feature on the album.
With Christmas on the horizon, indie band Blossoms have teased on Twitter that they are to release a Christmas song today at 5pm.
The band quoted their tweet from June that said, "Just wrote a Christmas tune on the hottest day of the year."
5/11/20 / 5PM 👀 pic.twitter.com/2ZphiWIT4L

— B L O S S O M S (@BlossomsBand) November 4, 2020
Blossoms also announced that they are releasing a documentary entitled 'Back to Stockport'. The documentary gives us an inside look at the five piece band. It also showcases their homecoming concert at Stockport County FC's Edgeley Park from June 2019. The documentary is available to stream on Amazon Prime Video from November 8th. You can watch the trailer below.
Be sure to keep tuning into Radio Nova as we bring you seriously addictive music and music news!