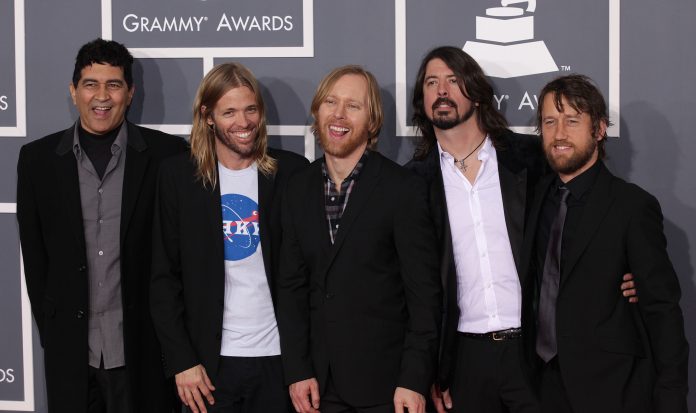 Foo Fighters have teased that their new album is to be released soon. The band have placed a series of hints around California and online.
Their 'FF' symbol has appeared along side 'X' which is the roman numeral for ten on many streets around California. The next Foo Fighter's album would be their tenth release.
Fans on their Reddit page have also posted videos of the 'FF' and 'X' being projected onto walls, followed by a video of a burning coffin. Fans from the US and the Netherlands have confirmed that they saw the burning coffin when they streamed the Foo Fighters track, 'The Pretender' on Spotify.
The band have also shared two new tweets to back up these clues. The first one depicts the burning red eye of guitarist Pat Smear, with an isolated bass drum and handclap track providing the soundtrack. It was captioned with '#LPX'.
The second video was similar to the first, but it depicted drummer Taylor Hawkins instead. It also had an added snare drum beat. The caption was the same as the first. You can watch both teasers below.
Some fans are suggesting that the album will be released on Friday 13th, which is next week. These rumours are unconfirmed for now.
Back in May, Foo's frontman Dave Grohl compared their new album with David Bowie's 1983 record, 'Let's Dance'. Grohl said "It's filled with anthemic, huge, sing-along rock songs. To me, it's our David Bowie's 'Let's Dance' record. That's what we wanted to make, we wanted to make this really up, fun record."
He went on to add that "There are choruses on this record that 50-fucking-thousand people are gonna sing, and it's gonna bring everyone's fucking hearts together in that moment" he said. "And that's what it's all about."
Grohl also said that the new album was "unlike anything we've done before". "It's kind of like a dance record, but not an EDM, disco, modern dance record. It's got groove."
The new album will be the follow up to the 2017 record 'Concrete and Gold'. Grohl confirmed an interview from earlier this year that the recording was finished in February. Given what's happened this year, it is safe to say that the pandemic has delayed the release of this album.
#LPX pic.twitter.com/71Zbr2FNFP

— Foo Fighters (@foofighters) November 4, 2020
#LPX pic.twitter.com/rM256qftYJ

— Foo Fighters (@foofighters) November 5, 2020
Fans will be hoping for more concrete news or even a brand new song as the Foo Fighters are set to appear on Saturday Night Live this weekend. Dave Chappelle is the host. The first SNL live after the 2016 election saw Chappelle deliver an eleven minute monologue that won him an Emmy award.
Saturday's episode will be the first the 2020 election, while no winner has been confirmed yet, it is hard to see SNL live not celebrating a Joe Biden win.
Foo Fighters recently played at the iconic Troubadour in Los Angeles. This was part of the Save Our Stages festival organised  by the National Independent Venue Association (NIVA). You can watch the set and read more about it here.