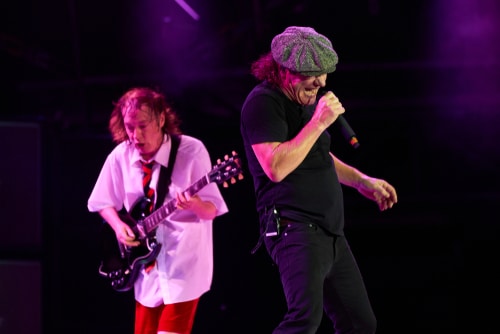 Every day at 4:30 on Radio Nova, Pat Courtenay brings you seriously addictive music news and here are the stories that matter today.
The music world is excited as AC/DC release their brand new album tomorrow. 'Power Up' is the 17th studio album from the rock icons. The new album will be released via Columbia Records.
They have released the second single from the album, a belter called 'Realize'. Speaking to Radio.com, guitarist Angus Young said of the album "a lot of them were ideas that they knew were good AC/DC ideas at the time, but they just never got around to getting them on record".
Former guitarist Malcolm Young sadly passed away in 2017 due to his battle with dementia. Despite this, Young has writing credits on every song on 'Power Up'. Frontman Brian Johnson said in an interview with NME that "most of 'Power Up' came from ideas before (2008 album) 'Black Ice', when Malcolm and Angus would sit together for five days a week and run through ideas" 
The new album sees Young, Johnson, bassist Cliff Williams who came out of retirement to record the album, drummer Phil Young and guitarist Stevie Young firing on all cylinders again. The band have teamed up with producer Brendan O'Brien who produced the AC/DC albums 'Black Ice' and 'Rock or Bust'.
Thursday nights on Radio Nova have been taken over by Bruce Springsteen as he brings his radio programme 'From my Home to Yours' to our listeners from 7 to 9pm. After his show tonight, keep listening on Nova as Greg Gaughran brings you Nova nights and the chance to win copies of the new AC/DC album. We may be in lockdown, but Radio Nova has your entertainment sorted.
The new album along with its many different formats are available to pre-order here. The limited edition, one-of-a-kind deluxe POWER UP box is the ultimate fan package. Hit the button on the side of the box and watch the flashing neon AC/DC logo light up while the opening bars of 'Shot In The Dark' blast out of the built-in speaker.
Inside the box is the full CD package in a soft-pack with a 20-page booklet that features exclusive photos and USB charging cable allowing the box to remain powered up and on display. The vinyl LP will be pressed on 180 gram vinyl and housed in a gatefold jacket.
Check out the new single 'Realize' and the track list below!
Make sure to keep tuning into Radio Nova as we bring you seriously addictive music and music news!
'Power Up' track list
Realize
Rejection
Shot In The Dark
Through The Mists Of Time
Kick You When You're Down
Witch's Spell
Demon Fire
Wild Reputation
No Man's Land
Systems Down
Money Shot
Code Red