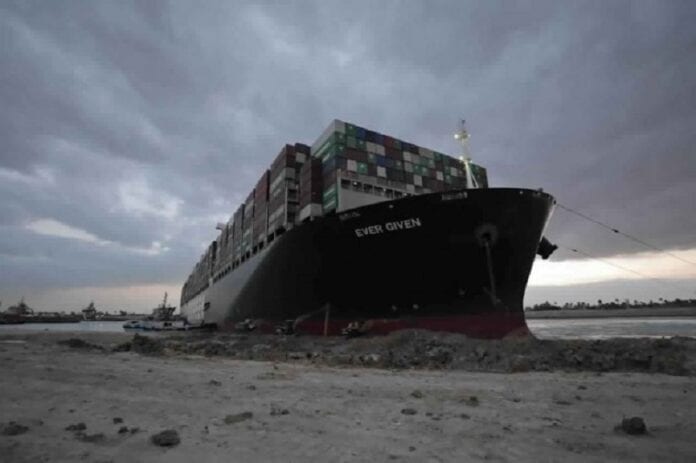 Significant progress has been made on refloating the Ever Given container ship that has been stuck in the Suez Canal for nearly a week.
The ship has been turned 80% in the right direction, offering hope that the vital shipping route can return to normal in the coming days.
Suez Canal Authority (SCA) chief Osama Rabie said today that rescue efforts, which included the use of 11 tug boats had succeeded in shifting the front and back of the ship.
In a statement, Rabbie said:
"The position of the ship has been reorientated 80% in the right direction. The stern… moved to 102 metres from the shore."
The ship was previously only four metres away from the shore, the new position indicates significant progress, but more work will need to be done.
According to the SCA's statement, the process will "resume when water flow increases again from 11:30 am … in order to completely refloat the vessel, so as to reposition it in the middle of the waterway."
It is estimated that around 369 ships are stuck behind the ship in the Suez Canal. Initially, there were around 150 ships stuck behind the Ever Given when it first became wedged.
An official from Shoei Kisen, the company who owns the ship said while the Ever Given "has turned", it "is not afloat."
The ship had been "stuck at an angle of 30 degrees towards the canal, but that has eased." Shoei Kisen officials also said that no new damage to the ship had been reported.
It is still unclear as to when normal services will resume. The incident has caused major disruption to the global economy. The current stoppage is costing the canal between €12 and €13 million per day.
Between 10 and 15% of the world's shipping traffic goes through the Suez Canal. Over the weekend some Tweets went viral suggesting that traffic around the Cape of Good Hope in southern Africa had massively increased.
However, various outlets have reported that this is not the case and traffic remains relatively normal around the Cape.
The World's biggest shipping company, Denmark's AP Moller-Maersk, has warned customers that it could take anywhere from three to six days to clear the backlog of vessels in the Suez Canal.
Photo credit: Suez Canal Authority via PA Images.