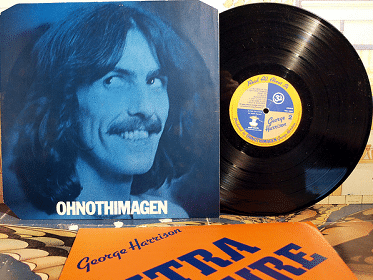 George Harrison fans have been eagerly awaiting the reissue of Harrison's first six solo albums.
The eight-disc edition titled The Apple Years 1968-1975, features digitally remastered versions of the musicians' first six solo records released between 1968 – 1975 on the Beatles' Apple Records label.
The compilation box-set also features the two albums he recorded and released while he was still in the Beatles, 1968′s Wonderwall Music, the first solo album released by one of the Fab Four, and 1969′s Electronic Sound.
Wonderwall Music, Electronic Sound, All Things Must Pass, Living In The Material World, Dark Horse,and Extra Texture (Read All About It), will be available to buy individually or together in a deluxe eight-disc boxed edition.
In 2004, Universal Music Group, put out the The Dark Horse Years 1976-92. The six- disc box-set included his studio albums from 1976′s Thirty Three & 1/3 to 1987′s Cloud Nine with bonus tracks.
Max Hole CEO of Universal Music Group International said, "George Harrison is a musical icon and one of the most imaginative and influential artists of all time. It's been great for us to work with Dhani and Olivia Harrison and all of the team behind The Apple Years project, a vital part of his legacy."
Watch the promotional video for The Apple Years 1968-75 below.
The Apple Years, features an exclusive new seven-minute film with previously unreleased footage. The deluxe edition also includes an exclusive perfect-bound book with an introduction by the guitarist's son, Dhani Harrison, new essays by award-winning radio producer and author of two books about the Beatles' BBC recordings, Kevin Howlett and rare and previously unpublished images.
The Apple Years 1968-1975 is available to purchase now.