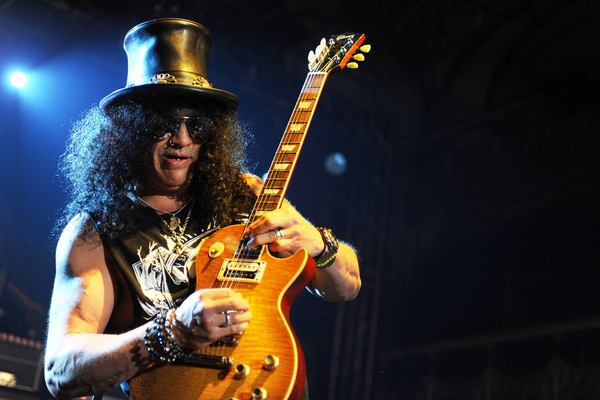 Previously devastating Guns 'N' Roses fans by revealing the band are yet to make new music, Slash has now injected us with "a little patience". For those who were sad to see the 30th anniversary of Guns N' Roses' Use Your Illusion albums come and go without deluxe reissues, a belated boxset should arrive this summer.
During an interview with Biff Bam Pop! editor-in-chief, Andy Burns, Slash explains that the reissue "got delayed by the pandemic, but it is coming out, I think this summer. There's a bunch of cool live stuff on it, a couple shows. The Ritz from the early '90s, and a show that we did in Las Vegas back in 1989, I think it was. And it's actually the show that I met my ex-wife at."
Slash appears to be referencing the show on May 16th, 1991, when the band had their third and final secret warm-up gig before the Use Your Illusion Tour. While recording a music video for You Will Be Mine, Axl Rose leaped from a speaker – breaking his foot in the process. However, as Guns N' Roses Central reports, Slash has slightly mixed up the dates as he "met his ex-wife, Perla Ferrar, backstage after a Vegas show in 1992, not 1989."
The band's iconic 1987 record, Appetite for Destruction, recently re-released as a massive 30th anniversary box set, which included B-sides, demos, and studio outtakes. Originally releasing in tandem on September 17th, 1991, Use Your Illusion I and II debuted at No. 2 and No. 1 on the Billboard 200, respectively. Attracting huge attention the first time round, fans would have been puzzled to see nothing arrive a few months ago.
While the guitarist spoke with Andy Burns, Slash confirmed a new reissue boxset is in the works. Check out the video below, where G'N'R Central report the great news.