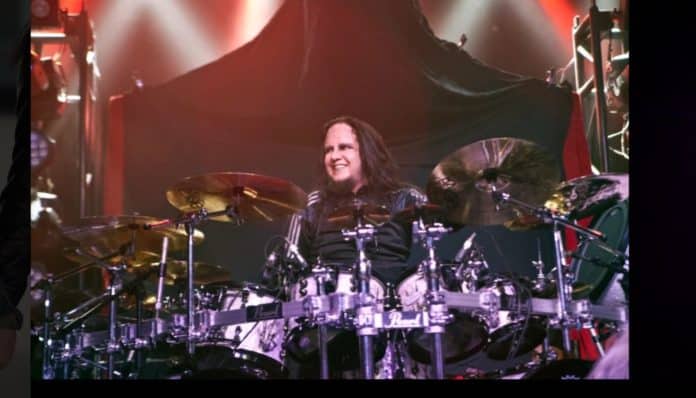 Tributes have been paid to Slipknot founding member, Joey Jordison who died aged 46. His death was confirmed yesterday.
A family representative said that Jordison had died peacefully in his sleep.
"indescribable sorrow"
"Joey's death has left us with empty hearts and feelings of indescribable sorrow", Joey Jordison's family said in a statement.
"To those that knew Joey, understood his quick wit, his gentle personality, giant heart, and his love for all things family and music", they added.
"The family of Joey have asked that friends, fans, and media understandably respect our need for privacy and peace at this incredibly difficult time". 
Joey Jordison's career
Jordison was the drummer for Slipknot when they were originally called the Pale Ones. They were also later called Meld. Jordison suggested the name Slipknot and that is what they became known as from 1995 until his departure in 2013.
He then formed heavy metal band Scar The Martyr, before they split up in 2016.
Jordison later explained his departure from Slipknot.
"I got really, really sick with a horrible disease called transverse myelitis, I lost my legs", he said.
"I couldn't play anymore", he added. "It was a form of multiple sclerosis, which I wouldn't wish on my worst enemy. I got myself back up, and I got myself in the gym and I got myself back in f*****g therapy, to f*****g beat this s**t".
In 2016, Joey Jordison launched a new band called Vimic. At the time of his death, he had also been playing with heavy metal band Sinsaenum.
While touring in Ozzfest in 2001, supporting Slipknot's second album "Iowa", Jordison met Tripp Eisen of Static-X and the pair discussed a possible side project.
In 2002, Jordison revived his old band The Rejects which became The Murderdolls. He added Eric Griffin and Ben Graves along with Wednesday 13 aka Joseph Michale Poole.
The band went on to release two albums, "Beyond The Valley of the Murderdolls" from 2002 and "Women And Children Last" in 2010.
"You changed my world forever"
Wednesday 13 led the tributes to Jordison.
"I'll never forget you. You changed my life forever", he wrote.
R.I.P. Joey Jordison

I'll never forget you. You changed my life forever. ❤️🖤🔥 pic.twitter.com/R0OetL1JpJ

— Wednesday 13 (@officialwed13) July 27, 2021
Papa Roach also paid tribute to "brother" Joe Jorbison via their Twitter account.
Shit. RIP to the brother Joey Jordison. Love you brother.

— Papa Roach (@paparoach) July 27, 2021
Joe Jordison's bandmates from Slipknot Jim Root, Corey Taylor, and Shawn "Clown" Crahan all posted a single black tile on their social media accounts, in an emotional tribute to him.
Check them out here.
— M. Shawn Crahan (@MShawnCrahan) July 27, 2021
— PANDEMIC! AT THE DISCO (@CoreyTaylorRock) July 27, 2021
You can also check out Jim Root's Instagram tribute to Jordison here.