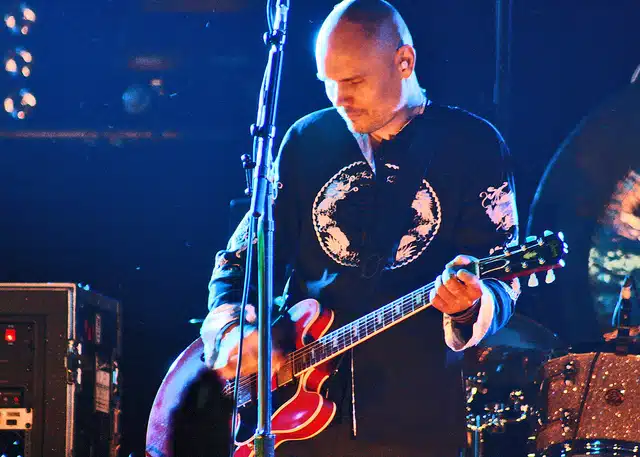 Chicago's Smashing Pumpkins have announced a massive 30th-anniversary show, where they'll be joined on stage by an abundance of special guests. The band are set to hit Holmdel in New Jersey this week, for their reunited Pumpkins' acclaimed 'Shiny Oh So Bright' tour.
The band aim to play a one-off celebration show and they'll be joined by Courtney Love,  Peter Hook of Joy Division and New Order fame, Deftones' frontman Chino Moreno, Sugar Ray's Mark McGrath, AFI frontman Davey Havok, and The Killers' Dave Keuning and Mark Stoermer. Stoermer was a member of the Pumpkins live band for their previous record.
Peter Hook's son Jack Bates is presently touring as the Pumpkins' bassist in lieu of original member D'Arcy Wretzky following the endless feud between her and lead singer Billy Corgan.
Earlier this month, Corgan spoke out about how he feels he's portrayed by the media, declaring that he's 'done playing the class A heel'. The wrestling reference of a 'heel' paints Corgan as a celebrity target for journalists to lampoon the singer as 'a negative cynic'. One particular incident was a photo that went viral of Corgan looking quite miserable on a ride at Disneyland.
Billy Corgan Glumly Riding a Disneyland Rollercoaster Is the Photo of the Week http://t.co/PeMnh0SmGr pic.twitter.com/LMYgo4POgz

— Esquire (@esquire) July 25, 2015

'It's more of a gossip type of thing, and you can play into that, but ultimately it doesn't really do what you hoped it would do, which is get people to listen to the music," he said. "I don't think the guy printed it in the New York Times interview, but I said, 'I'm done playing that guy'. Corgan responded to the Disneyland episode by posting a much happier pic at the theme park with his son.
Corgan explained that his media invention served to expose the media industry, 'I did it because I enjoyed it. I thought it was fun. I thought I made a lot of good points through the years that exposed the hypocrisy of much of the media complex as far as how they treat celebrity, that they're really not interested in the work, they're more interested in what the work gives them in terms of opportunity of creating clickbait and stuff like that.'
Following on with their recent  comeback single 'Solara', it has also been announced that  Smashing Pumpkins will be playing London's SSE Wembley Arena on October 16. You can check out the video for 'Solara' here.
.