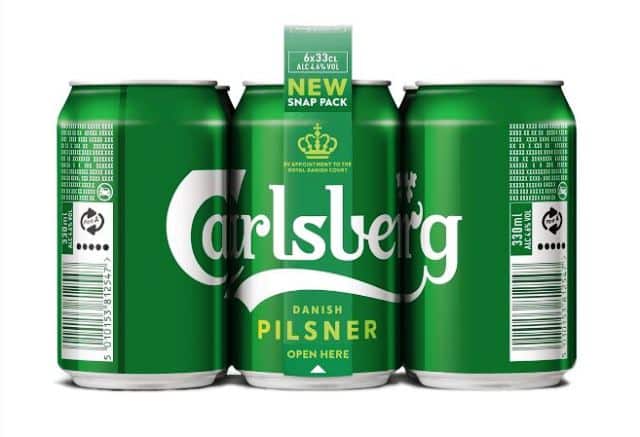 Big Beer Brewers Carlsberg will use glue to replace the plastic wrapping that holds together its six-packs of cans.
Describing the new "Snap Pack" as a "world first for the beer industry," the frothy firm said it would cut the amount of plastic used in traditional multi-packs by as much as 76%.
Carlsberg say that when rolled out, the packaging will reduce plastic waste by over 1,200 tons per year, or the equivalent of 60 million plastic bags,
According to multiple reports, the Snap Pack's glue is strong enough to keep the cans together during transport and storage, but is easily pulled apart when so desired.
Plastic pollution has been high on the public agenda since Blue Planet 2 brought its grim impact into everyone's living rooms in late 2017, but concern about six-pack rings stretches back much further.
Carlsberg Group CEO Cees 't Hart said in a statement on Thursday that it was "an important day" for the business.
"Carlsberg's Snap Pack will significantly reduce the amount of plastic waste, and we look forward to giving our consumers better beer experiences with less environmental impact,".

The issue of plastic waste is a serious one. Europeans, for example, produce 25 million tons of plastic waste per year, according to the European Commission. Less than 30% of this is collected for recycling.