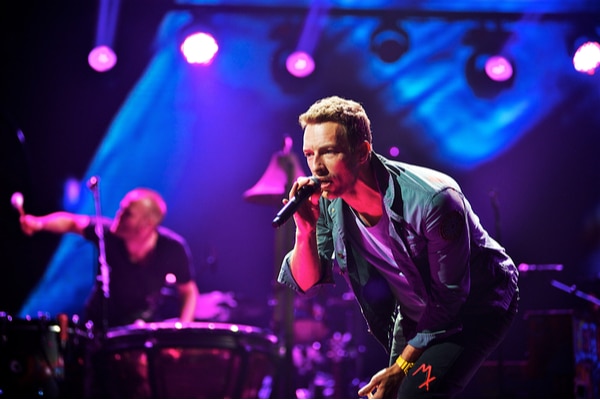 Chris Martin has admitted that sorting a completely eco-friendly tour "still has a long way to go". 
The band had announced plans for a 2022 world stadium tour, which was planned to be as eco-friendly as possible. This tour was to support the band's latest album "Music of the Spheres". 
The tour dates were scheduled for six nights at London's Wembley Stadium, as well as Glasgow, Berlin, Paris along with other European cities.
"We have been working some amazing brains" – Martin
Chris Martin recently spoke to BBC Radio 2 host Ken Bruce's show In Concert.
The Coldplay frontman talked about the band's plans to run 100% renewable energy, along with the progress being made. He also offered an insight into how Coldplay and BTS collaboration "My Universe" came about.
"We've been working with some amazing brains to see how we can cut down as much of the environmental impact as possible", he said.
Martin also added, "We still have quite a long way to go, but we've already come quite a long way. And there are some things that we didn't dream were possible that are possible". 
Coldplay's bassist Guy Berryman also said that the band had "made a great start" with planning sustainable shows.
Berryman said, "Whatever we end up doing, will be a Phase One, but there always has to be an improvement and a continual cycle". 
He added, "If you want to pick holes, and I'm sure someone can and will, I think that's fine: what you have to do is embrace the idea of continued progress. It has to be an ever-evolving situation". 
Coldplay led by Chris Martin, also recently announced the release of an EP "Infinity Station Sessions". This was released on December 2 via Apple Music. This arrived as part of 'From Apple Music With Love', a Christmas countdown series including an exclusive releases from several big acts.
Back in October, Coldplay also paid tribute to Pearl Jam, perfoming at their hometown Seattle. More on this here.