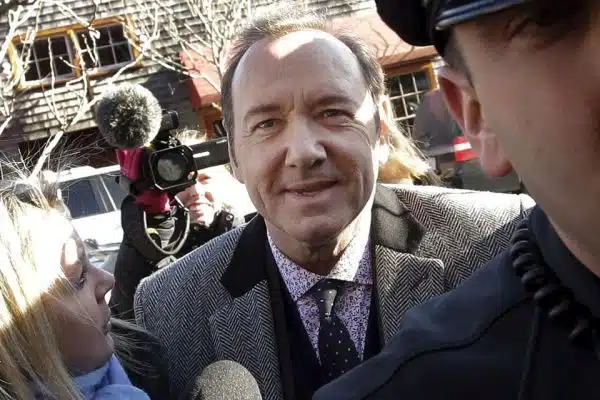 Kevin Spacey has arrived in court in the US, charged with indecent assault and battery. He's accused of inappropriately touching an 18-year-old man in a bar in the state in 2016.
The 59-year-old House of Cards star pled not guilty. The Oscar-winning actor didn't speak to waiting reporters at a court in Massachusetts.
The hearing comes more than a year after a former Boston TV anchor accused the former "House of Cards" star of sexually assaulting her son, then 18, in the crowded bar at the Club Car, where the teen worked as a busboy.
A judge granted a prosecutor's request that Spacey be ordered to stay away from the accuser and have no contact with him. Spacey nodded slightly when a judge asked if he understood. There was no formal reading of charges, and Spacey did not enter a plea.
A judge set a preliminary hearing date for March 4 and ruled that Spacey did not need to appear. Spacey didn't answer reporter's questions as he left court. Spacey's lawyer, Alan Jackson, has sought to poke holes in the case, noting that the teenager didn't immediately report the allegations.
If convicted, Spacey faces as many as five years in prison. The civil attorney for the accuser said in a statement ahead of the hearing that his client is "leading by example."
"By reporting the sexual assault, my client is a determined and encouraging voice for those victims not yet ready to report being sexually assaulted," said lawyer Mitchell Garabedian, who has represented hundreds of clergy sexual abuse victims.
ilty plea was entered on the two-time Oscar winner's behalf by his lawyers during the hearing in the US state of Massachusetts.
He is accused of sexually assaulting an 18-year-old male after plying him with alcohol at a bar in Nantucket in 2016.
Assault claims against him have also surfaced in London and Los Angeles.
Spacey, 59, was mobbed by media as he arrived at the packed courtroom on the normally sleepy resort island community of Nantucket on Monday after arriving by private jet.
Wearing a grey suit with polka-dot tie and floral shirt, the actor looked composed and nodded when Judge Thomas Barrett told him he was not allowed to contact the alleged victim.
A lawyer for Spacey – whose legal name is Kevin S Fowler – had earlier asked the judge to allow the hearing to happen without the defendant present, but that request was refused.
He was released without having to pay bail by the judge after a 10-minute hearing.
Kevin Spacey appears in court on sexual assault charge https://t.co/vSU9hX5nT2

— Reuters (@Reuters) January 7, 2019