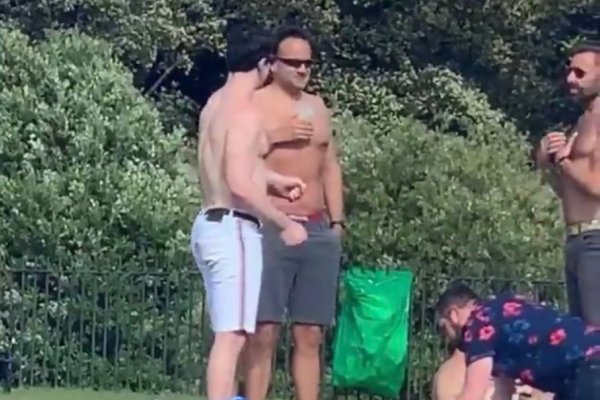 Taoiseach Leo Varadkar did not break the 5km rule when sunbathing in the Phoenix Park on Sunday according to his spokesperson.
The Fine Gael leader, his partner Matthew Barnett and two friends met up by the Wellington Monument in Dublin on Sunday afternoon.
Pictures emerged online of the Taoiseach and his pals with some suggesting he was breaking the very restrictions he has brought in.
The photos on social media show the Taoiseach in the Phoenix Park shirtless with his partner and two other people.
However, Mr Varadkar is currently residing in Farmleigh Estate with his partner Matthew during the pandemic and was not outside of the 5km limit.
In a statement, a spokesperson for Leo Varadkar says he was in the Phoenix Park on Sunday with his partner Matt and two friends in line with public health guidance.
The spokesperson says the Taoiseach was within 5km of Stewards Lodge where he has been staying during the Covid 19 emergency.
He's been staying at the Lodge, which is in the Farmleigh Estate in the park, for the past few weeks as it has secure office and video conferencing facilities.
The spokesperson concludes that like previous Taoisigh, the Taoiseach pays a nightly fee to use the facility.