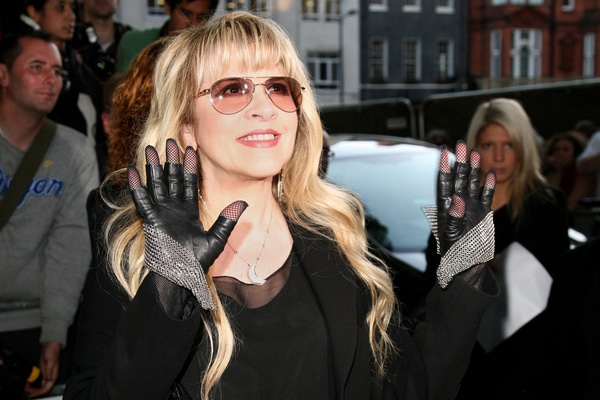 The Fleetwood Mac singer reflected on her debut solo album as it turned 40.
The album turned 40 on July 27th.
Nicks took to Instagram to share an extract from her journal.
In the post Nicks claims she chose backing singers Lori Perry-Nicks and Sharon Celani to form a girl version of Crosby, Stills and Nash. She also wanted to ensure the record sounded nothing like Fleetwood Mac. "That would have defeated the dream," Nicks wrote.
Nicks went on to give insight into the album's title track. She revealed that the song was inspired by her boyfriend's mother "who was involved with a man in Chile during the coup that happened there in 1973."
"The man she loved was banished to France," nicks revealed. "Banished or imprisoned, that was the choice. The love story never really ended – but she never saw him again."
Nicks claims she was so touched by the story that it inspired her to compose Bella Donna.
"The moment the poem and then the song was finished, I knew I had the basis for my first solo record," Nicks wrote.
"I never doubted for a moment that this song would be the title of the record and that it would change my life in so many ways, on so many levels."
Nicks went on to say the song "defined how I would feel about love forever."
The singer said her solo album strengthened Fleetwood Mac rather than posing a threat to the group.
"It did not break up Fleetwood Mac," she wrote. "If anything, it kept us together."
Bella Donna topped the US album chart. Nicks says it "opened the doors of the Rock and Roll Hall of Fame."
Nicks has recorded seven solo albums since her 1981 debut, with the most recent being 2014's 24 Karat Gold: Songs from the Vault.
View this post on Instagram
The singer is set to headline this year's Austin City Limits festival along with Billie Eilish and Miley Cyrus. Nicks and Cyrus recently teamed up for a mashup of Nicks' Edge of Seventeen and Cyrus's Midnight Sky. The track saw Nicks join Cyrus for the chorus of Midnight Sky, which sampled the famous guitar riff from Nicks' Edge of Seventeen.
Cyrus discussed seeking Nicks' approval to sample the track.
"I sent her the song and I said, 'I have an alternate melody, if you don't want me to kind of like pay tribute to you and your greatness and how much you've inspired me,'" Cyrus said. "And she said, 'You can borrow from me anytime.'"
Recently Nicks' former lover and bandmate Lindsey Buckingham said he never got "closure" following their breakup.
"Part of the deal with Stevie and me was that we had to spend an awful lot of time together without ever having gotten closure from each other," he told Nile Rodgers in an interview.