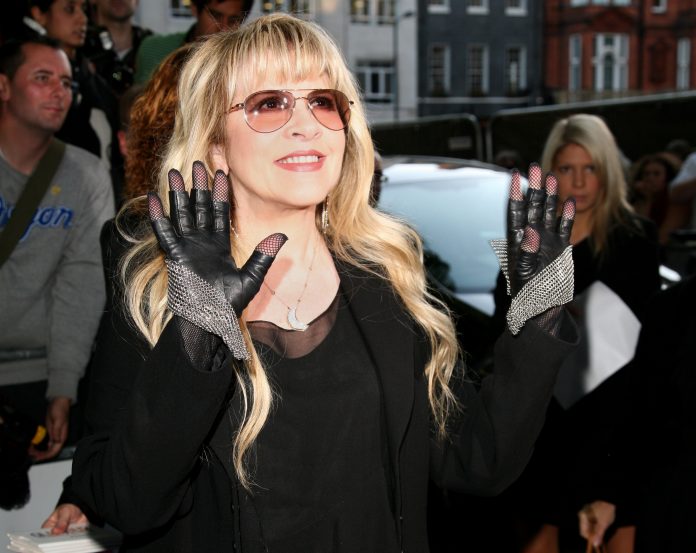 Stevie Nicks has joined TikTok and continues the latest Fleetwood Mac trend that has gone viral on the platform. Nicks has put her own spin on the 'Dreams' TikTok challenge.
Last month TikTok user Nathan Apodaca, aka @420doggface208 on TikTok went viral with his clip of him skateboarding to Fleetwood Mac's 1977 hit 'Dreams' and drinking cranberry juice at the same time. Fleetwood Mac's drummer, Mick Fleetwood joined TikTok and recreated the challenge as well.
Apodaca's original video has over 40 million views. Since releasing the video, Apodaca has hired a manager to manage international interviews and has received more than 15,000 dollars in donations from fans. Mick Fleetwood said "We owe you" when he met Apodaca over Zoom in a BBC interview.
Fleetwood Mac also shared their appreciation of the video, saying in a tweet "We love this!"
We love this! https://t.co/LgMGOGZIer

— Fleetwood Mac (@fleetwoodmac) September 26, 2020
Stevie Nicks has now joined in on the fun. In her video, the singer can be seen sitting at her piano, lacing up her roller blades and singing along to 'Dreams' as it plays on her turntable. She captioned her video 'Afternoon vibes. Lace em up!'.
Afternoon vibe. Lace 'em up! #Dreams #FleetwoodMac #CranberryDreams @420dogface208 https://t.co/eg5f54bu0b pic.twitter.com/Mj1clEpnas

— Stevie Nicks (@StevieNicks) October 13, 2020
Since the original TikTok went viral, Fleetwood Mac have reappeared on the charts. 'Dreams' is listed in the Billboard 100 chart for the first time since 1977.  It has also risen to number 11 on Rolling Stone's Top 100 chart. Streaming numbers of the song have been on the rise for the past month.
Nicks released a new song called 'Show Them The Way' last week. The song is about a dream she had in where she plays a benefit concert for inspirational figures such as Martin Luther King Jr, John F. Kennedy and John Lennon.
She has also announced that a new concert film from her 24 Karat Gold Tour is to be released. Nicks' latest song can be heard below.
In a new interview with The Guardian, Nicks opens up about the pandemic, the issues Fleetwood Mac have, her love life and her friendship with Harry Styles.
Nicks tells The Guardian that she has barley left her Los Angeles home this year. "My assistant, God bless her, she puts on her hazmat suit and goes to get food, otherwise we'd starve to death." 
Nicks is taking the pandemic extremely seriously as she says "I'm not, at 72 years old, willing to give up my career."
She says people always ask the band: "Do you get along?' We'd go: 'Not really.' They'd say: 'Are you friends?' and we'd go: 'Not really.' 'Do you see each other when you're not on tour?' 'Er, no.' It has been like that since 1976."
When asked about her love life, Nicks said "I'm not going out with anyone. And I haven't gone out with anyone in a long, long time…could I fall in love and run away with somebody at 72 years old? Yeah. It's probably not gonna happen, but it's possible."
On her friendship with Harry Styles, Nicks says "Can I just say that Harry Styles is not my younger boyfriend." She went on to add "He is my friend. My very good friend."