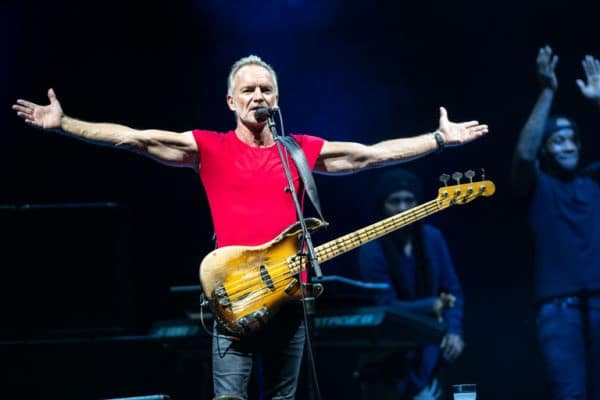 Sting has hinted that he may still continue to tour by the time he celebrates his 80th birthday.
The former Police singer stated that he my follow in the footsteps of Beatles music legend Sir Paul McCartney, while outlining his approach to music, which has enabled him to continue to write, record and tour.
He also insists that he is showing no signs of slowing down anytime soon. Sting is currently in the middle of his 'My Songs' Tour.
"Why not?"
Speaking in a recent interview, Sting hinted that he could be performing at Glastonbury in 2032.
"Well, it's not that far away. Why not? I'm not wearing a corset or anything. As long as I can get into my rock star pants, I'll be fine", Sting told Music Week.
Comparing making music to a game, the singer continued, "You want to stay in the game as long as possible, like tennis – just one more round and one more game," he said. "I'm competitive. I want to get better as a songwriter". 
Adding: "I want to improve and I want to keep learning, and I think that's what keeps me going – just the idea that you can do better".
"Every night I try and breathe life into a song that could have been written 40 years ago with the same curiosity, the same passion, the same enthusiasm, and that's my gig. And I'm so grateful for those songs because they've transformed my life. They are the lifeblood of what I do". 
"a very coherent narrative"
Elsewhere, Sting also explained how his songwriting has developed over the years.
"I believe firmly that music has a narrative and, if you've constructed it in the correct way, it has a very coherent narrative", he stated. "My job as a lyricist is to hear that and then make that into a character or a story. That's the hardest part and the most satisfying part".
The former Police lead singer also claimed that he has "also learned that you can't be on output the whole time – I need to live a life and receive information in life so that I can write a song. At the moment, I'm not writing songs; I'm on tour, which is one of the great things about touring – you don't have to think".
"It's completely devoid of thought, which I kind of like … but then when I finish a tour, I have to face a blank page and that's probably the most frightening thing". 
"Somehow, if you're in the right frame of mind, you can fill that page. But you need to be patient and you need to be in a state of receptivity". 
Sting's 'My Songs' Tour will see him take to the stage at Dublin's Malahide Castle on June 28. Find out more here.