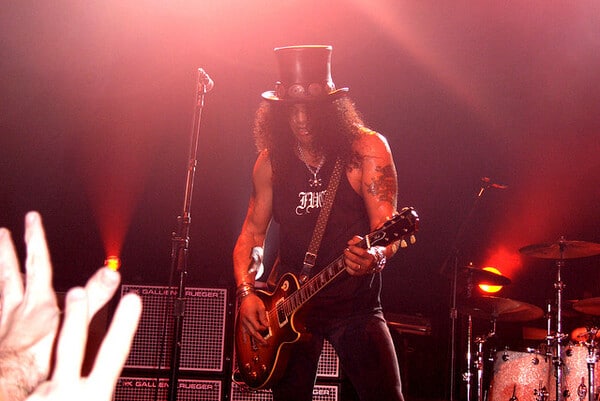 Guns N' Roses are the latest addition to Spotify's Billion Club.
The band's classic track Sweet Child O' Mine has now racked up over a billion streams on the music streaming service.
The landmark was reached on August 9th, 34 years after the song debuted on Guns N' Roses' 1987 debut album Appetite for Destruction.
That album currently holds the title of the biggest selling debut album of all time, with over 18 million copies sold in the US alone.
Sweet Child O' Mine's billionth Spotify stream isn't the song's first major landmark of the internet era. Back in October 2019 the music video for the song reached a billion views on YouTube.
The song topped the Billboard Hot 100 chart back in September, 1988.
Axl Rose penned the song's lyrics as a tribute to his then girlfriend Erin Everly, whom he married in 1990 (the pair would split just a year later). The iconic guitar riff originated as a warmup by guitarist Slash. The band became so enthralled with the melody that they fleshed out a song around it.
As a hard rock ballad, Sweet Child O' Mine stands out on the list of songs that have amassed a billion streams on Spotify. The list is dominated by recent pop and R&B acts. Rock exceptions include Queen's Bohemian Rhapsody, Nirvana's Smells Like Teen Spirit, Journey's Don't Stop Believin', The Killers' Mr Brightside and Linkin Park's In the End.
The only Irish artist to reach Spotify's landmark is Hozier with his hit Take Me to Church. Even U2 have yet to hit that magic number of a billion streams.
The members of the Spotify Billion Club may be quids in, but it's notoriously difficult for artists to make money from streaming services. There have been increased calls from the music industry for reforms of the model. It's estimated that artists receive less than a cent per stream.
Guns N' Roses are currently on tour in the US. Last week they used one of their shows to pay tribute to rapper Biz Markie, who passed away in July.
Axl Rose asked the audience at the MetLife Stadium in East Rutherford, New Jersey to join him in a sing-a-long of Markie's hit Just a Friend. The frontman played piano on the tribute before transitioning into November Rain.
Also last week, Guns N' Roses debuted a new track, Absurd, during a show at Boston's Fenway Park.