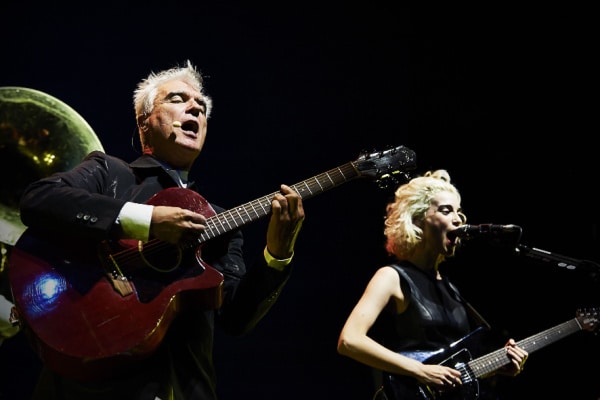 Would you like to listen to the article instead of reading it?
Talking Heads have spoken about the possibility of a reunion, with their bassist Tina Weymouth insisting that they are just "savouring the moment".
This comes after the band made their first appearance in 20 years earlier this year, when they reunited for a a Q&A at the Toronto Film Festival on September 11.
Talking Heads who comprise of frontman David Byrne, guitarist Jerry Harrison, drummer Chris Frantz, alongside Weymouth reunited for this Q&A, celebrating the 40th anniversary of the band's concert film 'Stop Making Sense' from 1984.
"just savouring the moment"
In a fresh interview, Talking Heads addressed rumours over a possible reunion.
"We're just savouring the moment. We're so happy that it's resulted in this wonderful thing that's lasted 40 years. And we're not really looking too far into the future", Tina Weymouth said. "We might be standing on the corner and a bus will knock us down. We're super glad we're alive. We're all four here to enjoy this moment".
Jerry Harrison added that watching the film reminded him of the enjoyment he felt from the working with the band.
"There's no question, though, that it revives the joy we had together. I think for each one of us, watching the film, we feel the joy—not just the four of us, but everybody that was onstage, and the crew. It's certainly tugging on the heartstrings of how much I loved everybody", he said.
Back in 2020, David Byrne had previously dismissed any notions of a Talking Heads reunion.
He also spoke of his regret over the way the band's split was handled, claiming he was a "little tyrant" at the time. More on this here.
Earlier this Summer, Talking Heads also previewed an expanded version of 'Stop Making Sense'. The band teased this album, by sharing the rare 'Cities'.
See more here.