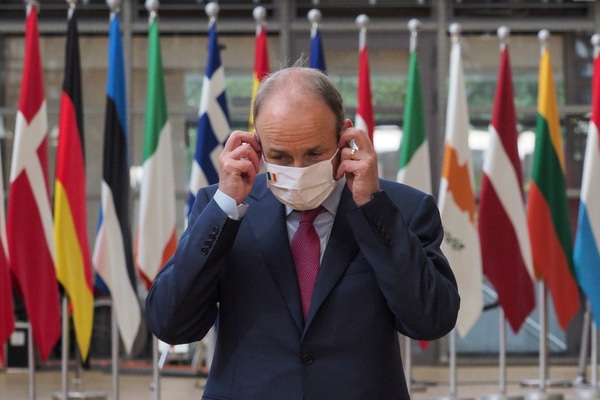 Taoiseach Micheál Martin has said if US President Joe Biden extends an invitation to meet on St Patrick's Day, "I will go". There have been many debates as to whether the Taoiseach should travel to the US, with some feeling he should not during the current pandemic.
However, in a recent interview, the Taoiseach revealed that an invitation is still yet to materialise from the US. Martin explained that there was "ongoing engagement" between US and Irish officials on the matter.
"If I'm invited, I will go to the United States," the Taoiseach told RTÉ Radio One's Morning Ireland. "It would have to be worked out by both administrations and I am conscious we're living in Covid times".
Mr Martin also expects he will need to be vaccinated before travelling to the US. Although, if the meet-up takes place sometime around March 17th, he will need to be vaccinated soon to ensure protection. Meanwhile, the Taoiseach said he was bemused by the debate about whether he would go and highlighted the importance of the relationship between Ireland and the US.
"In some shape or form, we are going to honour it, as we always do on St Patrick's Day," said the Taoiseach. "The economic relationship is key. There are a whole range of issues in terms of the undocumented Irish in the United States. We'd also like, with the new administration, to develop new areas of cooperation in terms of helping developing countries".
Pleased with the initiative Biden has shown so far, the Taoiseach said he is confident that Ireland will continue to have a good relationship with the US. Keeping the tradition of this meet-up alive is seen as a necessity to that plan.
Last week, Minister for Foreign Affairs, Simon Coveney said he believes the Taoiseach should travel to Washington DC for the traditional St Patrick's Day meeting in the White House. While Tánaiste Leo Varadkar avoided the question by saying the decision is "above my pay grade, now".
However, Solidarity-People Before Profit TD, Bríd Smith has called on Mr Martin to decline, if an invitation is received. She said the Taoiseach should say thank you for the invitation but say he cannot go as there were other people who should have the vaccine before him.
Speaking on RTÉ radio's Today with Claire Byrne show, Ms Smith denied an accusation by former Fianna Fáil ministerial adviser Derek Mooney that such a response by the Taoiseach would be an "empty gesture." She added that members of the Cabinet should not be vaccinated ahead of vulnerable people and frontline workers.