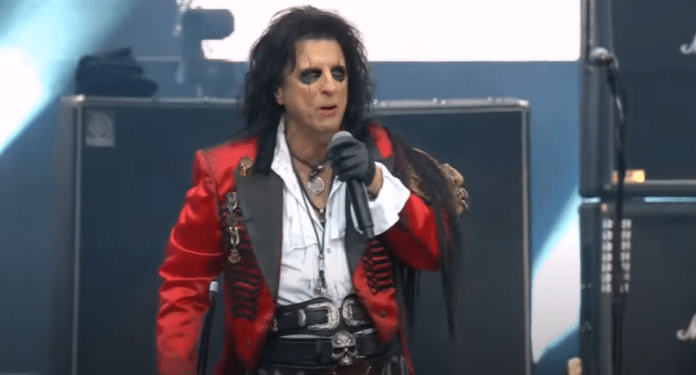 Rock star, Alice Cooper has recieved the Coronavirus vaccine alongside his wife Sheryl. The couple got their jabs at the immunisation facility in Phoenix, Arizona.
After getting the jab, Cooper shared a video revealing that both he and his wife suffered from the virus in the past. He also stressed the importance getting vaccinated against the virus.
In this clip, Cooper said this "We already had Covid but we're getting vaccinated anyway". Cooper also added, "Everyone out here has been really nice and you don't feel like you're in danger of anything. So come on out. If you haven't been vaccinated, come on out".
Sheryl, his wife also got the jab. She described it as "painless".  
The Coopers recieved their vaccines at an immunisation centre, set up by a non-profit organisation that brings together military veterans with first responders called, Team Rubicon. They provide assistance in times of need.
In the clip, Cooper also jokingly calls Team Rubicon a great band. He said, "I have all their albums. They're really one of the best bands I've ever heard ever".
"These volunteers knew they were going to be there"
Team Rubicon's Phoenix Communications Officer, Rich Mogull described the Coopers getting vaccinated at the centre as "great".
Mr Mogull added, "The Coopers showed up and none of these volunteers knew they were going to be there. They got autographs and got to talk to Alice and his wife".
Cooper, Caine & a list of stars getting the vaccine:
Alice Cooper became the latest in a long list of famous stars to show their support for the Covid-19 vaccine. Legends Elton John and Michael Caine starred in a NHS ad, which encourages people to get the jab when they are offered one.
In the video, they assure that the vaccine is perfectly safe and efficient.
Sir Ian McKellen also received his vaccine before Christmas.