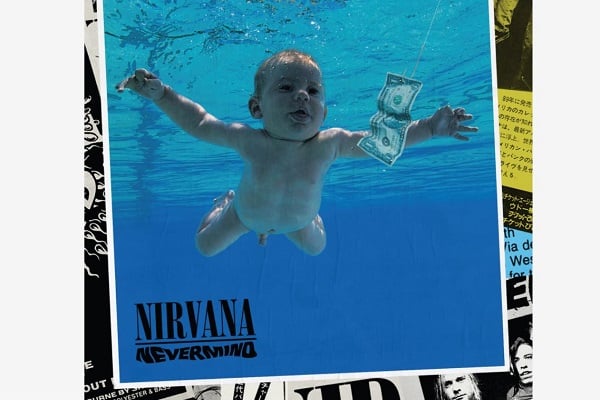 Nirvana made headlines back in August when their 1991 'Nevermind' album cover became the subject of a lawsuit in which Spencer Elden, who appeared on the album's cover as a baby, filed a child pornography suit against the band's surviving members. 
The already complicated case has taken yet another unexpected turn as an alleged "intervenor defendant" entered claiming to possess physical and digital editions of 'Nevermind', reports Digital Music News' Dylan Smith. 
In his original statement, Spencer Elden claimed that the members of Nirvana alongside Universal Music, photographer Geffen Records, and Courtney Love had "knowingly produced, possessed, and advertised commercial child pornography" with the album cover that he had posed for as a baby, "and they knowingly received value in exchange for doing so."
"The permanent harm he [Elden] has proximately suffered includes but is not limited to extreme and permanent emotional distress with physical manifestations, interference with his normal development and educational progress, lifelong loss of income earning capacity," and more, continues Elden's statement in which he demands "all profits and unjust enrichment" from the decades-old album. 
In more recent news, the case proceedings were disrupted when one Timothy Frederickson issued a motion to intervene as a defendant earlier this week. 
According to the Legal Information Institute, "intervention" is the entry of "a third party into an existing civil case who was not named as an original party but has a personal stake in the outcome." 
Frederickson, who was previously  found "guilty of sexual exploitation of a child" according to the Quad-City Times, claimed that he purchased a copy of 'Nevermind' in the early 2000s as well as having "ripped" the CD's tracks into MP3 files "which automatically downloaded" the cover art, featuring Elden, as an ID3 tag. 
As a result, "Fredrickson possesses but does not want to possess, [sic] multiple copies of the Elden image". Frederickson claims that the album's cover art has followed him through life, including "while road tripping in various cars, it's [sic] infotainment system read the ID3 tags and displayed the Elden image."
Frederickson added that he, allegedly, "does not have access to an ID3 tag editor to delete the image" and "is not a resident of California [where the suit against Nirvana was filed] and intends to go on a trip to, and vacation in, Los Angeles while listening to Nirvana."
The intervenor claims to have "a property interest at stake" because "an adverse ruling" would prompt him "to attempt to destroy all copies of the album and its derivatives in his possession," as well as "a right to travel interstate ( go Road Tripping) [sic] while listening to this particular CD with the cover intact and the image emblazoned on it," the text reads.
"The named defendants' defense may inadequately protect the interests of Nirvana fans as end-users like Fredrickson, by focusing their defense on the act of production or shifting the liability onto one producer –to [sic] the exclusion of a defense that would protect possessors of the album."
However, Frederickson's motion to intervene was "reject" by the court's presiding judge on November 1st, noting "document discrepancies" including "written notice of motion lacking or timeliness of notice incorrect" and "lacking name, address, phone, facsimile numbers, and e-mail address." 
Nirvana front-man Dave Grohl went on record in October claiming that the band may well change the 'Nevermind' cover art after all.