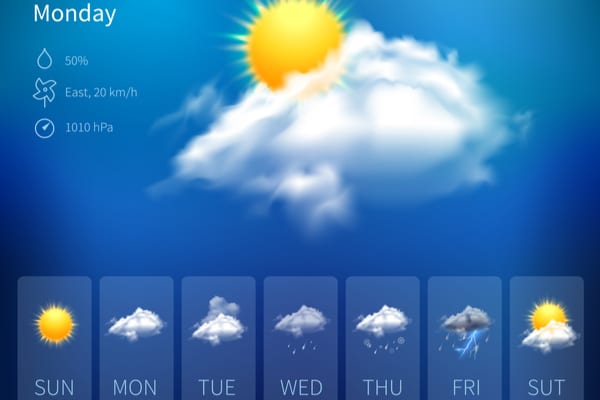 This morning will see misty and foggy conditions for most of the country, leading to potentially dangerous driving conditions. They will ease however, becoming sunnier across the country. Temperatures could hit as high as 26 degrees.
Possibly similar to the weather we experienced over the weekend. 
A short clip from above the fog this morning. pic.twitter.com/uB6MQth0US

— Carlow Weather (@CarlowWeather) September 7, 2021
Temperatures will hit between 22 and 26 degrees, with the weather expected to be humid and dry for most of the day.
Highest tempertures are also expected to hit inland, away from southern and eastern countries.
Showers to hit during the night
It will also remain dry and clear in many areas tonight. But showers will start to hit Munster from the southwest early in the night.
By dawn, showers will move northwards, hitting Connacht and Leinster. Some showers will be heavy.
It will remain humid however, temperatures will not fall below 13 and 17 degrees.
Tomorrow's weather prediction 
It was also predicted to stay hot and humid for tomorrow. There will be also scattered showers, some being heavy mixed with sunny spells.
Showers will last longer and become more widespread later in the day. Highest temperatures will stay between 20 and 24 degrees.
"Continuing humid and mild with heavy or thundery showers midweek. Temperatures falling back to average heading into the weekend, with showers becoming lighter and more scattered", Met Éireann said.
"Overall cloudy with showers continuing overnight, turning heavier and more persistent. A very mild and humid night with temperatures remaining above 14C to 16C in light southeasterly winds". 
"Another day of quite widespread heavy showers on Thursday, with the potential for isolated thunderstorms. Heavy downpours bring the risk of spot flooding. There will be some occasional bright intervals also".
"Highest temperatures of 17C to 22C with light southerly or variable winds. Freshening northwest winds will develop on western coasts in the evening".
"Showers will continue through Thursday night, but will ease in intensity, in rather cloudy conditions. Temperatures not falling below 13C to 16C".
They also added, "Scattered showers with occasional bright or sunny spells on Friday, showers will not be as heavy as those midweek".
"Highest temperatures of 16C to 21C, warmest in the east, with light northwest winds".
As for Saturday and Sunday
Saturday is to see a mixture of sunny spells and scattered showers. Dry spells will be prevalent throughout the day.
Temperatures will also drop to between 15 and 18 degrees in a light northwest breeze.
Temperatures are to remain the same for Sunday, with sunny spells and a mixture of scattered showers remaining.