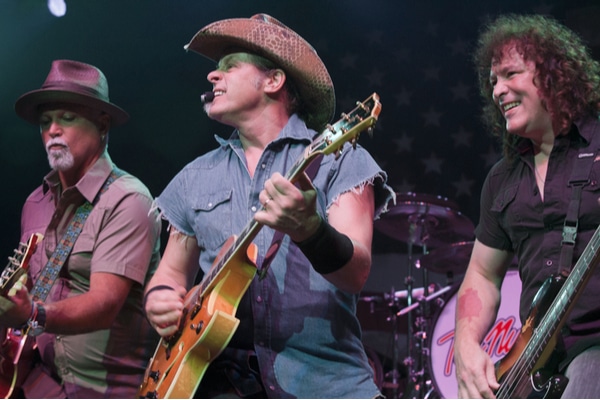 Outspoken rocker, Ted Nugent is still against receiving a vaccination against COVID-19 and continued his argument on Off The Record. Making an appearance on the US show, the Stranglehold singer said he believes the vaccine to be fake, and "experimental".
According to Blabbermouth, Ted described COVID-19 as a "weaponised virus created in Wuhan" by Barack Obama, Nancy Pelosi and Doctor Anthony Fauci. Nugent began explaining how he and his wife overcame the "Wuhan weaponized virus" by doing "what the government told me not to do".
"I took hydroxychloroquine, ivermectin, steroids and zinc and continued with my healthy lifestyle, being clean and sober and eating venison," Ted claims. "And my wife and I recovered in just a few days, which means we have the antibodies and that we have a strengthened and fortified immune system against experimental shots."
Nugent, a conservative, said he was sharing "truth, logic, and common sense with people who care", before claiming "the FDA was forced to authorise" the vaccine.
"I work with dedicated medical professionals, scientists, biologists and virologists, and there's an army consisting of tens of thousands of professional health masters who call it an experimental shot. And you shouldn't get it if you don't wanna get it," Ted declares. "The only ones that are taking it are either gullible or being forced because they're gonna lose their job, lose their life and lose their livelihood.
When asked if he had anything to say to the millions of people who have already been vaccinated, Ted thanked the host for the time to an began imitating a sheep. The rocker said, "I speak their language. I will speak to them thusly: Baaaaaah. Baaaaaah. Baaaaaah. Baaaaaah. They understand that."
Quizzed by senior Capitol correspondent, Tim Skubick, on if he believes that the millions who received vaccination are "just stupid", Ted replied, "Yup." He then clarified that he has "buddies" and "family members who took it because of the overwhelming pressure and the propaganda pounding and the fear that has been cultivated by this out-of-control treasonous government.
Ted's "pulse of thinking" claims to have found evidence supporting "every word I speak", outweighing the overriding evidence for the vaccine. "This isn't radical stuff. This is critical thinking based on science, based on medical professionals who are very dedicated, and I take their advice. It's an experimental shot. Don't come near me with your needle."
Just under 5 million people, worldwide, have lost their lives due to contracting COVID-19, and even Ted Nugent "didn't think [he] was gonna make it". Stay safe, and keep up to date on the coronavirus with the HSE website.